Diabetic friendly dukkah crusted lamb served with homemade tabbouleh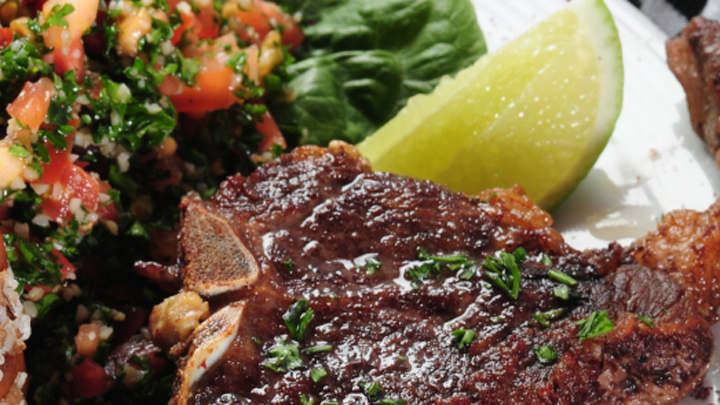 Using herbs and spices is important element in diabetic cooking. Not only does it provide essential nutrients, it is also a great way to add flavour without affecting blood glucose levels.
For example, this recipe includes the wonderful spice mix, dukkah. In this instance the dukkah adds beautiful ethnic flavours into the dish. Try experimenting with different spice combinations as a coating for various dishes. You can purchases dukkah from any supermarket or get creative and blend up your own.
Ingredients
Crusted lamb
1 x 300g lamb backstrap, trimmed (feel free to use chicken, pork or beef fillet if you prefer)
2 tablespoons of dukkah (you may buy ready-made dukkah or see recipe below for an example)
100g of natural reduced fat yoghurt
½ teaspoon ground cumin
Ad. Article continues below.
Tabbouleh
1 bunch of parsley
1 large tomato
1 large cucumber
½ small red onion
juice of 1 lemon
Homemade Dukkah
1 cup hazelnuts
¼ cup sesame seeds
1/4 cup crushed peanuts
¼ cup coriander seeds
2 tablespoons cumin seeds
Ad. Article continues below.
Method
Tabbouleh
Chop finely and combine all ingredients.
Homemade Dukkah
Ad. Article continues below.
Separate the hazelnuts and roast until they are golden in colour. To remove the skins hit and rub the hazelnuts in a tea towel.
Roast the other seeds and spices separately until fragrant.
In a mortar and pestle or using a food processor, grind all the spices, seeds and nuts until coarsely ground.
Keep the dukkah in an airtight container, it will keep for up to 2 months.
Ad. Article continues below.
Crusted Lamb
Preheat the oven to 200 degrees celsius.
Cover a plate with a thin layer of dukkah and gentlly press the lamb into it so that all sides of the meat are covered.
Place the crusted lamb in a lightly oiled baking dish.
Bake until the meat is no longer bloody and is cooked through, this should be about 20 minutes.
Ad. Article continues below.
Cover the lamb in aluminium foil and rest the meat for approximately five to 10 minutes, then slice.
Mix the cumin and the yoghurt together.
Plate up the tabbouleh, the lamb slices and a doll a small serving of the spiced yoghurt and serve.
Have you ever used dukkah in cooking before? Do you have your own dukkah recipe which could be used?