Deliciously spicy seafood laksa soup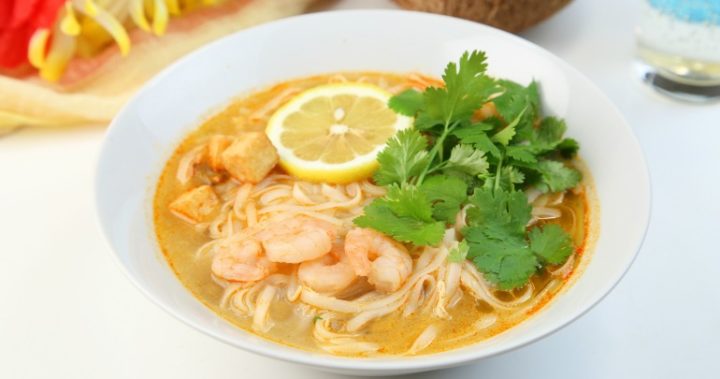 Spicy recipes are not for the faint-hearted, but this one is so delicious, even those who can't stand spice will want a try.
Laksa is so simple and easy to make yet still serves up generous proportions for each dinner or lunch guest. And better still, it's packed full of delicious and healthy ingredients.
Perfect for warming up on a chilly or rainy evening, or if you're having a lot of very hungry guests over soon, it's the recipe to treat everyone to.
Ingredients
1/3 cup Malaysian laksa paste
400ml can coconut milk
1 cup water
24 green prawns, peeled, tails intact
200g dried rice stick noodles
120g green beans, thickly sliced diagonally
80g bean sprouts, trimmed
Method
Heat large saucepan on medium heat.
Add laksa paste in and leave to cook for 30 seconds.
Pour in coconut milk and water and stir.
Let simmer for three minutes, ensuring mixture is well combined, before adding in prawns.
Leave to cook for around three minutes until prawns are cooked through.
Separately cook noodles following packet directions. Drain excess water from noodles.
Place generous amount of noodles in each bowl, before using ladle to scoop out a serving of the laksa mixture for each person.
Top with beans, sprouts and basil.
This meal is perfect served with lime wedges and basil leaves for extra flavour.