Delicious zucchini noodles with hearty mince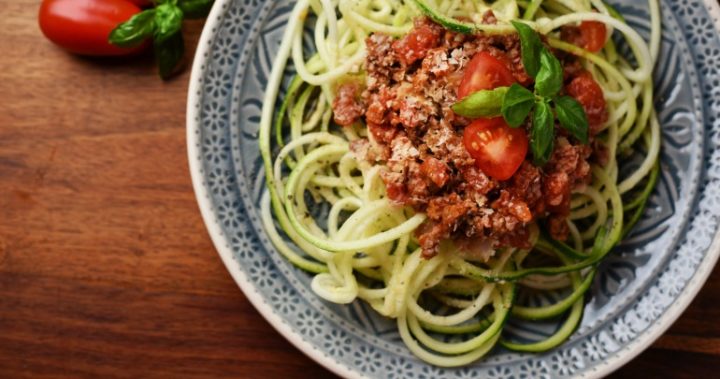 Who doesn't love a classic spaghetti bolognese now and again? Rather than filling up on heavy carbs just before bed though, this version allows you to indulge in the Italian classic without worrying about what it will do to your waistline.
Enjoy the tasty sauce flavoured with parsley, oregano and fresh tomatoes, all on a bed of delicious zucchini spirals and topped with Parmesan cheese for good measure. If you're still searching for carb hit (you deserve it!) serve with a side of freshly buttered sourdough – it's a real flavour sensation.
Ingredients
4 medium zucchinis
Olive oil
1 onion, diced
2 cloves garlic, crushed
2 x 400g tinned diced tomatoes
1 tsp dried parsley
1 tsp dried oregano
Salt and pepper
500g beef mince
Parmesan cheese, to serve
Method
Use a kitchen spiraliser to cut your zucchini into long spirals, then set aside.
Heat olive in a frying pan over medium heat, then add onion and garlic.
Cook until onion is clear and garlic has softened.
Add mince and stir until browned.
Add tinned tomatoes, parsley, oregano, salt and pepper.
Let the mice mixture simmer for 15 minutes.
Add a splash of olive oil in a separate frying pan and cook the zucchini over a medium heat, constantly stirring until it's soft like pasta.
Add zucchini to a plate and top with bolognese and Parmesan.