Delicious Teriyaki chicken noodle bowls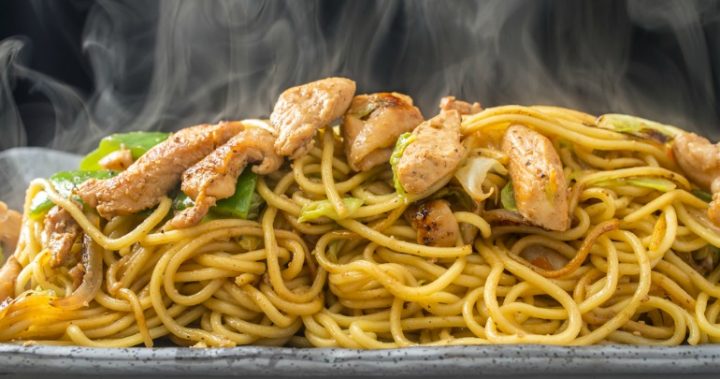 If you're after a quick and easy dinner that doesn't compromise on the flavour, then these delicious Teriyaki chicken noodle bowls are for you!
Using simple, fresh ingredients, they make for the perfect weeknight dinner, especially on those nights you don't have much time, or simply don't feel like spending all evening slaving over a hot stove.
The best thing is, you can change up the ingredients to suit yourself. You could substitute chicken for beef or pork, or add any kind of veggies you have to bulk up the nutrition. Yum!
Ingredients
1 450g package of Hokkien noodles (or preferred noodles)
1 tablespoon cornflour
1/3 cup reduced sodium soy sauce
1/4 cup brown sugar
3 cloves garlic, crushed
1 tablespoon freshly grated ginger
2 tablespoons honey
500g boneless, skinless chicken thighs, cut into 2-3cm chunks
1 tablespoon olive oil
1 teaspoon sesame seeds
1 spring onion, thinly sliced
Method
1. Whisk cornflour with 1/4 cup of water until well combined.
2. In a small saucepan over medium heat, combine soy sauce, brown sugar, garlic, ginger, honey and 1 cup water. Simmer, and add cornflour mixture, stirring for 2 minutes or until sauce thickens enough to coat the back of a spoon. Allow to cool and reserve 1/4 cup and set aside.
3. Combine chicken and remaining sauce in a large bowl, cover, and allow to marinate for at least 30 minutes before draining.
4. Prepare noodles according to package instructions, and drain.
5. Heat olive oil in a large frypan over medium heat. Add chicken and cook until cooked through and golden, around 4-5 minutes.
6. Add noodles and reserved sauce mixture, and stir until well combined.
7. Serve immediately, with spring onions and sesame seeds as garnish.