Delicious simple cashew chicken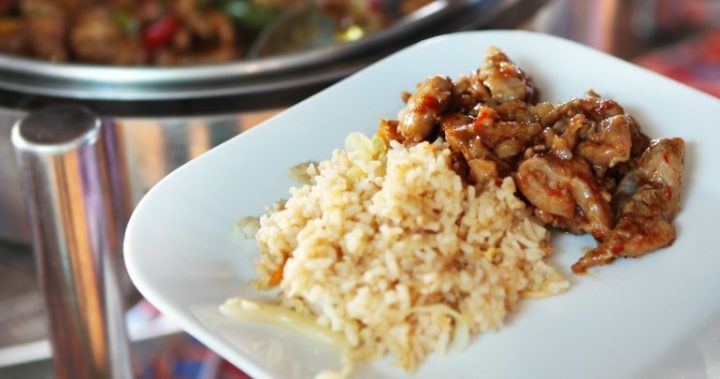 This simple dish is tasty and easy to make; perfect if you're are having a lazy day. This recipe combines tender chicken, flavoursome garlic, fresh spring onions and a sticky Asian sauce to create the perfect mid-week meal.
This dish can be served with steamed rice, udon noodles or even by itself. If you have any leftovers, store them in the fridge for lunch or dinner the next day.
Full of flavour, this dish is so yummy it will have you going back for seconds!
Ingredients
3 tbsp hoisin sauce
½ tsp chili garlic sauce
3 tbsp chicken broth or water
680g boneless, skinless, chicken thighs, cut into 2.5cm pieces
salt and pepper
1 tbsp cornstarch
1½ tbsp vegetable oil
1 small onion, cut into 1-inch pieces
4 garlic cloves, minced
2 tbsp rice vinegar
6 green onions, diced
¾ cup unsalted, roasted cashews
cooked white rice
Method
Whisk the hoisin sauce, chili garlic sauce, and chicken broth in a small bowl until combined.
Place sauce to the side and place the chicken to a medium bowl.
Season with salt and pepper then coat the chicken in cornstarch.
Heat up the oil in a large pan or wok over medium-high heat.
Cook the chicken for 8 to 10 minutes until it's golden brown.
Add in the onion and cook for another 3 to 5 minutes.
Add the garlic and cook for one minute.
Repeat with the rice vinegar.
Reduce the heat to medium-low, then add in the hoisin mixture.
Cook for another 2-3 minutes, stiring the mixture until combined.
Take off the heat and stir in cashews and green onions.
Serve with cooked white or brown rice.