Delicious salmon and tomato quiche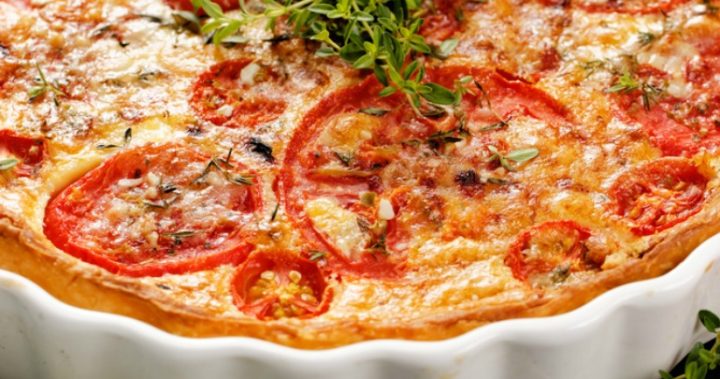 This easy quiche both looks and tastes amazing. It makes a great lunch when friends are coming over, or an excellent dinner with leftovers the next day.
Certain to impress everyone!
Ingredients
2 sheets of shortcrust pastry
1 tablespoon olive oil
1 sliced brown onion
1 teaspoon garlic, crushed
1 440g can red salmon, drained
1 ripe tomato, sliced into thin rounds
2 tablespoons of pitted black olives
2 tablespoons of sun dried tomatoes, chopped
3 eggs, beaten
1/2 cup milk
1/4 cup mayonnaise
2 tablespoons of grated parmesan cheese
2 tablespoon finely chopped mixed herbs
A sprinkle of both salt and pepper
Method
1. Line a deep quiche dish with shortcrust pastry, cover with baking paper and baking beads or rice and cook for 10 minutes.
2. Meanwhile, fry the chopped onion in oil for 5 minutes or until soft.
3. Whisk the eggs, milk, and mayonnaise together and stir half of the cheese, and the salt and pepper and herbs through.
4. Remove pastry from oven, ready to fill.
5. Spread the onion first, then spread the salmon out evenly in the crust, followed by the sun dried tomatoes and olives.
6. Pour the egg mixture over the salmon, olives and sun dried tomatoes, then sprinkle the other half of the cheese on top and press the tomato rounds into the top.
7. Bake for 20-30 minutes or until set, then allow to stand for 5 minutes before serving.