Delicious orange citrus bars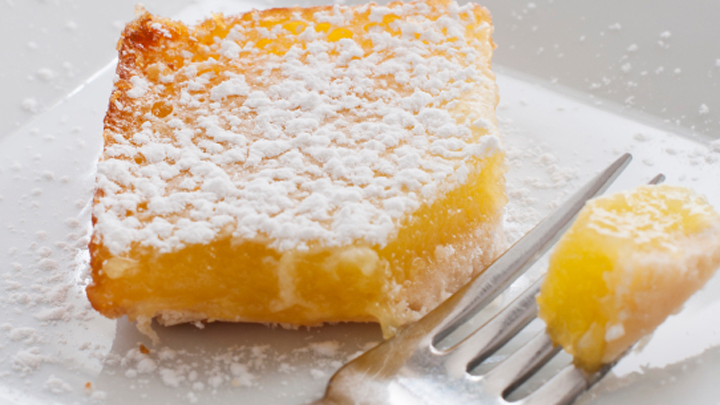 Move over lemon, you've got some competition! This orange bar recipe is loaded with a tonne of citrus flavour and is so easy to make. It uses a lot of orange zest in the filling; you'll never want to go back to lemon bars again. As well, the crust is buttery and crunchy – what more could you want? It makes about 12 to 16 squares.
Ingredients
Crust
125 grams unsalted butter, room temperature
1 cup all purpose flour
2 Tablespoons of sugar
1/2 teaspoon of vanilla essence
Ad. Article continues below.
Filling
2 large eggs
2 teaspoons of orange zest (1 – 2 oranges)
3 Tablespoons of freshly squeezed orange juice (1 orange)
1 cup of sugar
1/4 teaspoon of sea salt
1/2 teaspoon of baking powder
Garnish – powered sugar (optional)
Method
Ad. Article continues below.
Crust
Preheat oven to 175C and grease 20 x 20cm baking pan with parchment paper.
Combine butter, flour, sugar and vanilla and place in pan. Bake for 20 minutes or until brown
Filling
Combine orange juice, zest, eggs, sugar, salt and baking powder. Whisk together until mixed.
Pour filling onto hot crust and bake for 20-25 minutes or until filling is set.
Let cool, cut into squares and dust with powdered sugar.
Tell us, will you try making this? Have you ever made orange bars before?