Delicious old-fashioned banoffee pie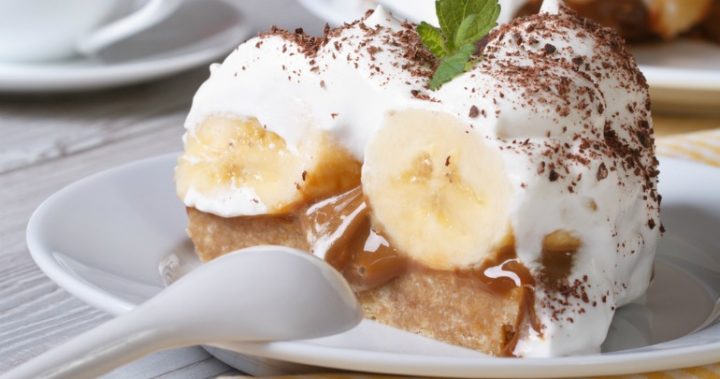 How long has it been since you've tasted the magical flavour of banana, toffee, chocolate and cream?
This is one of those classic recipes that went out of fashion for a while, but is well and truly ready for a comeback! Are you going to help bring it back?
Ingredients
2 x 295g cans of sweetened condensed milk
180g unsalted butter, chopped
375 digestive biscuits
60ml thickened cream
1 teaspoon vanilla extract
75g icing sugar, sifted
4 bananas ripe bananas, cut into thin slices
30g dark chocolate, grated
Method

1. Grease a 28cm release-bottom cake tin.
2. Bring the unopened cans of condensed milk to the boil over a medium heat. Reduce to a simmer and cook for 2 hours, adding water if necessary to ensure cans remain covered – this is essential, don't walk away and forget about them or they'll explode. Remove cans and allow to cool.
3. Melt butter in a small saucepan, and then allow to cool slightly. Crush biscuits to fine crumbs using a food processor, then add the butter and pulse until combined. Press crumb mixture firmly into base of the prepared tin, then refrigerate for 30 minutes to set.
4. Open cans of cooled condensed milk and spoon caramel evenly over the biscuit base and refrigerate overnight to set.
5. Use an electric mixer to beat cream, vanilla extract and sugar until stiff. Remove pie from tin and loosen base and place on a plate. Spread half the whipped cream over the caramel filling, then place bananas in an overlapping circle, working from the outside in. Top with the remaining cream and sprinkle with grated chocolate.
6. Serve immediately.