Delicious lemon ricotta cupcakes you can make in one bowl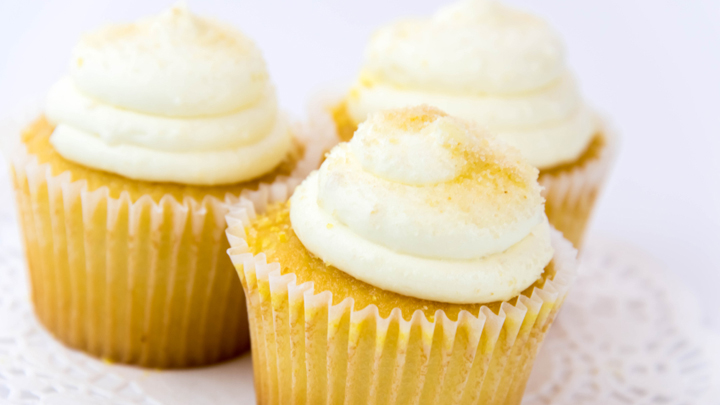 These zesty, soft lemon ricotta cupcakes are incredibly decadent but also so easy to make you won't believe it! Chuck it all in a bowl and voila, the best cupcakes we've tasted in ages.
Make them this weekend for your friends, or even just for yourself!
Ingredients
Cupcakes
1 and 1/2 cups self-raising flour
1 cup sugar
2 teaspoons lemon zest
1/4 teaspoon salt
115g unsalted butter, softened
1/2 tablespoon vanilla
2 large eggs,
1/2 cup ricotta cheese
1/4 cup full cream milk
2 teaspoons fresh lemon juice
Ad. Article continues below.
Lemon ricotta frosting
115g unsalted butter, softened
2 to 3 cups caster sugar, sifted
3 tablespoons ricotta cheese
2 teaspoons fresh lemon juice
1 teaspoon lemon zest
Method
For the cupcakes:
Preheat oven to 180 degrees. Line or grease cupcake tin and set aside.
Mix all of the dry ingredients together in a large bowl. Add the softened butter and vanilla, then mix until the batter is all combined. Add the eggs, one at a time, beating well each time. Add ricotta, milk, and lemon juice and mix until combined.
Spoon batter into cupcake cups (halfway) and bake for 16-20 minutes, or until a toothpick comes out clean. Allow cupcakes to cool completely before frosting.
Ad. Article continues below.
For the frosting:
In large bowl, using an electric mixer, beat the butter and caster sugar together until smooth. Mix slowly, adding in 1/2 cup of caster sugar at a time.
Slowly mix in ricotta cheese, then quickly add in lemon juice and zest.
Increase speed to medium-high and beat for 2 minutes.
Refrigerate frosting for 10 minutes then frost cooled cupcakes.
Notes
Keep cupcakes stored in the refrigerator until needed.