Delicious lemon and blueberry loaf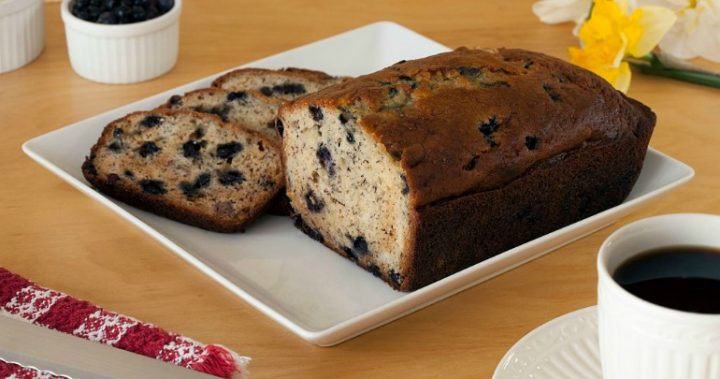 If you love a simple yet tasty morning spread, you will love this recipe.
This delicious lemon and blueberry loaf is a country classic and makes the perfect morning or afternoon treat. Completed with a lustrous lemon glaze, it's super easy to make and tastes great both warm and cold with lashing of butter on top of each slice.
You can either use fresh or frozen blueberries, however if you do choose to use frozen, avoid thawing as it will discolour the mixture.
There is nothing worse than a gooey middle and sometimes a loaf can be a little tricky to bake. We would recommend doing a bread test after the loaf has been baking for one hour. For those of you who aren't familiar, simply take the loaf out and flip it on its back. Give it a quick thump with your thumb and if the loaf is ready it will sound hollow.
Ingredients
1/3 cup melted butter or margarine
1 cup sugar
3 tbsp lemon juice
2 eggs
1 1/2 cups all-purpose flour
1 tsp baking powder
1/2 tsp salt
1/2 cup milk
2 tbsp grated lemon peel
1/2 cup chopped nuts
1 cup fresh or frozen berries
Glaze
2 tbsp lemon juice
1/4 cup sugar
Method
Preheat oven to 180°C.
Grease a 6cm deep, 9.5cm x 20cm loaf pan.
In a mixing bowl beat butter, sugar, juice and eggs.
Combine flour, baking powder and salt. Stir into egg mixture with milk.
Fold in peel, nuts and blueberries.
Pour mixture into loaf pan and bake for 1 hour.
Cool in loaf pan for 10 minutes.
Meanwhile, combine juice and sugar for glaze.
Remove bread from pan and drizzle with glaze.
Spread a layer of butter on top and enjoy!