Delicious gooey lemon butter biscuits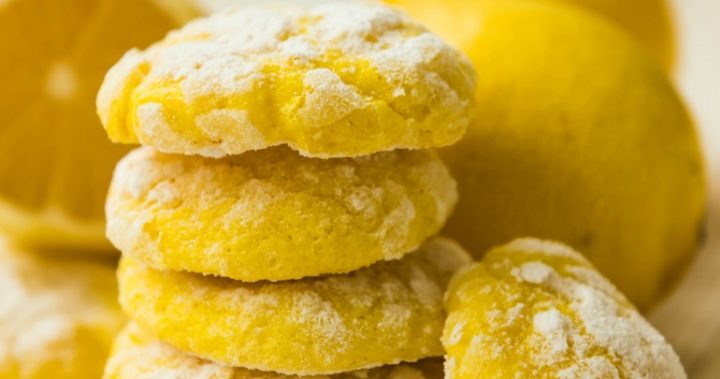 These gooey lemon butter biscuits are like biting into a delicious ray of sunshine.
Made with cream cheese and fresh lemon zest and juice, they are a sweet and tart delight, and a fresh change for your afternoon treat.
Certain to impress visitors if you serve them up with afternoon tea or coffee!
Ingredients
2 ¼ cups plain flour
2 teaspoons baking powder
1 225g package cream cheese, softened
½ cup unsalted butter, softened
1 ½ cups granulated sugar
2 tablespoons freshly grated lemon zest
1 ½ tablespoons freshly squeezed lemon juice
1 teaspoon pure vanilla extract
Yellow food colouring
¾ teaspoon salt
1 large egg plus 1 large egg yolk
1 cup icing sugar, sifted
Method

1. Whisk flour and baking powder in a medium mixing bowl until well combined.
2. In another bowl, use an electric mixer to beat cream cheese and butter until smooth. Add sugar, lemon juice, zest, vanilla, a few drops of food colouring, and salt, beating continuously until well combined. Add egg and egg yolk, and beat for 2-3 minutes on medium speed, scraping down the sides of the bowl.
3. Gradually add flour, beating on low speed until just combined. Cover and refrigerate at least 2 hours or overnight.
4. Preheat oven to 170C and line baking trays with nonstick paper.
5. Roll spoonfuls of dough into balls with your hands, then roll in icing sugar before placing on trays.
6. Bake for 12-14 minutes, or until biscuits have flattened out and are crackly in appearance on top. Allow them to cool on trays for 10 minutes before gently transferring to a wire cooling rack. Dust with additional icing sugar before serving, and store in an airtight container (in the fridge if you prefer).