Delicious gooey banoffee roll with thick cream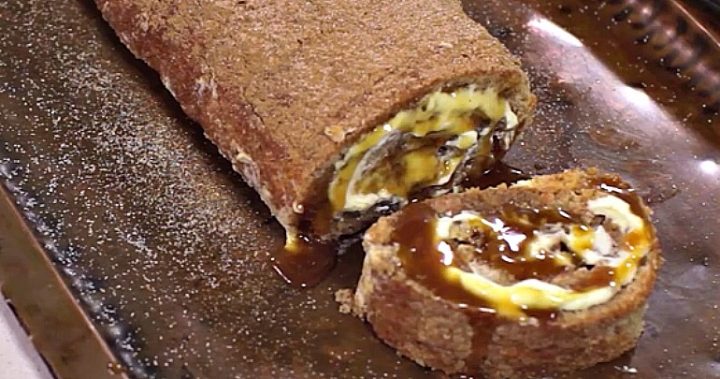 In the height of summer, those warm recipes just aren't as appealing as a creamy, light cake.
And combining gooey caramel, thick cream and fresh banana, this recipe is a simple and perfect end to any meal – for the whole family. With just a few short steps to create the masterpiece, it's great for a larger dinner party or just to treat your nearest and dearest guests at home. So why not dig in? After all, it's the time of year to celebrate in style!
Ingredients
70g softened butter
2/3 cup dark brown sugar, plus 2 tbsp extra
1 tsp vanilla bean paste (or extract)
3 eggs, separated
1/2 cup sifted plain flour
1 tsp bicarbonate of soda
2 tbsp boiling water
600ml thickened cream, whipped to firm
3 large bananas
300g jar salted caramel dessert sauce, or close alternative
2-3 tbsp caster sugar
Method
Preheat oven to 190°C (or 170°C for fan ovens).
Grease a rectangular baking tray (measuring approx. 3cm-deep and 24 x 37cm base), before lining with baking paper.
Beat butter and sugar until creamy and smooth.
Add vanilla bean paste and egg yolks and continue beating until dissolved.
Whisk egg whites in separate bowl until peaks form, before folding flour into butter mixture alternately with egg whites.
Mix bicarb and water, and fold into mixture until combined.
Pour into tray and spread to edges, before baking for 15 minutes or until springy.
Sprinkle extra brown sugar on to some laid-out baking paper, before moving baked cake on top.
Using paper as a guide, gently roll cake and leave to cool for 2-3 minutes.
Unfold and leave to cool completely.
Keep 1/3 cup cream aside and spread remaining on cooled cake, before scattering thinly sliced bananas on top.
Spread 1⁄2 cup caramel sauce on top.
Gently roll up cake.
Line new baking tray with lightly-greased foil and chop remaining bananas up into long diagonal shapes.
Sprinkle with caster sugar, and if available, use a kitchen blowtorch to caramelise them. If not, keep as fresh banana pieces.
Top cake with remaining cream and banana pieces, before microwaving remaining sauce for 1 minute and drizzling on top.
This is perfect served with chilled cream in summer.