Delicious creamy honey mustard chicken with crispy bacon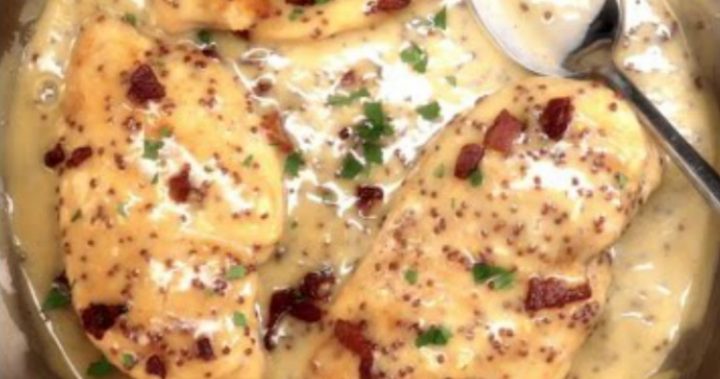 If you're after something a bit different for dinner, give this creamy honey mustard chicken a try!
Served with steamed veggies, the delicious, rich and creamy sauce is heavenly, and topping with crispy bacon just adds to the flavour hit. Yum!
Ingredients
1/3 cup honey
3 tablespoons whole grain mustard
1 1/2 tablespoons garlic, crushed
1 tablespoon olive oil
Salt to season
5 skinless and boneless chicken breasts
1/2 cup diced bacon
1/3 cup cream
1 cup milk
1 teaspoon corn flour mixed with 1 tablespoon water
2 tablespoons chopped fresh parsley
Method
1. In a large bowl, combine honey, mustard, garlic, and oil, and salt to taste. Place chicken in sauce and coat evenly, then set aside.
2. In a large frying pan, cook the bacon over a medium-high heat. Once crispy, transfer to a plate.
3. Place the chicken in the pan next, and cook until just browning, or about 3 minutes on each side. Add the remaining honey mustard sauce along with the milk and cream and simmer, stirring occasionally, until chicken is cooked through.
4. Transfer the chicken to a plate, then add the corn flour mixture to the sauce, stirring until it thickens. Once thickened, add the chicken back to the pan and coat in sauce.
5. Serve with steamed veggies, and top with bacon and parsley.