Delicious creamy bacon carbonara pasta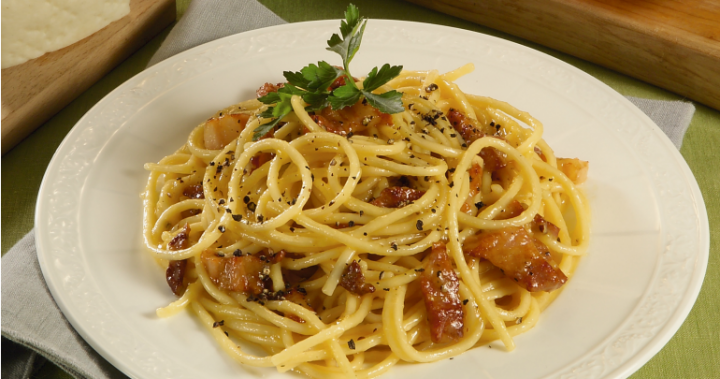 When it comes to a creamy pasta dish, it's hard to go wrong – combining some of the tastiest ingredients to make a true family favourite.
And this simple but tasty guide is perfect for a hearty dish to please all your nearest and dearest.
Combining delicious cheese with cream, bacon and mushrooms, it's a great home-cooked meal to serve for a large dinner party, or just a quick meal on the go, taking minimal time to create perfection. Tuck in!
Ingredients
500g fettuccine pasta or spaghetti
1 tbsp olive oil
80g butter
1 large onion, chopped finely
250g shredded bacon
200g sliced mushrooms
300ml pure cream
1 cup grated cheese
Method
Boil the pasta in a large saucepan of salted water until it softens.
While it's boiling, heat a large frying pan with oil on a high heat and add oil and butter, before scattering in the onion, bacon and mushrooms.
Cook the ingredients for around five minutes, until the bacon browns off and the mushrooms are tender.
Slowly add cream and bring to the boil, before simmering for a further two minutes until the sauce has slightly thickened.
Add pasta and cheese to the pan and stir for a few minutes until all the ingredients are thoroughly mixed together.
You can also add salt and pepper, or other mixed herbs, for extra flavour depending on your taste.