Delicious chocolate orange brioche pudding with ice-cream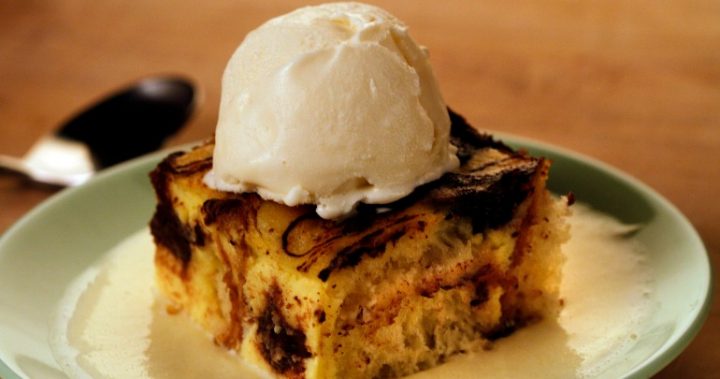 Creating a tasty and impressive dessert for a dinner party, and ensuring it leaves a lasting impression on your guests, is no small task.
But the irresistible chocolate orange blend in this brioche pudding is guaranteed to stand out this festive season.
Combining a creamy custard mixture with rich chocolate and vanilla essence – the moist dessert will melt in your mouth from the first spoon-full.
Creamy ice cream is the perfect companion to this hot dish, especially in warmer weather.
It's simple but delicious, so go ahead and tuck in!
Ingredients
20g softened butter, plus 30g, melted, extra
2 1/2 cups milk
1 1/4 cups pouring cream
1 vanilla bean, split and seeds scraped (or a drop of vanilla extract)
Finely grated rind of 3 oranges
400g brioche loaf, cut into 1cm-thick slices, then halved
200g chopped dark chocolate
4 eggs
70g caster sugar
Method
Preheat the oven to 160°C (0r 140°C if fan oven).
Use the softened butter to grease a 2 litre ovenproof baking dish.
Pour milk, cream and vanilla bean into a saucepan before slowly heating and bringing to a steady simmer over medium heat.
After removing from the heat, add the orange rind and set aside to cool.
Whisk the eggs and sugar together until creamy, before slowly mixing it in with the milk mixture – ensuring, if you used a vanilla bean, to remove it first.
Meanwhile, lay out the cut-up brioche loaf in the greased-up dish, allowing them to overlap slightly, before sprinkling the chocolate over and into the gaps.
Pour the custard mixture over the brioche, ensuring you cover it all, and leave aside for 20 minutes to soften.
Brush the melted butter over any exposed pieces, before cooking for 40-50 minutes or until it begins to set.
This is perfect served with creamy ice cream while piping hot.