Delicious caramel apple upside-down cake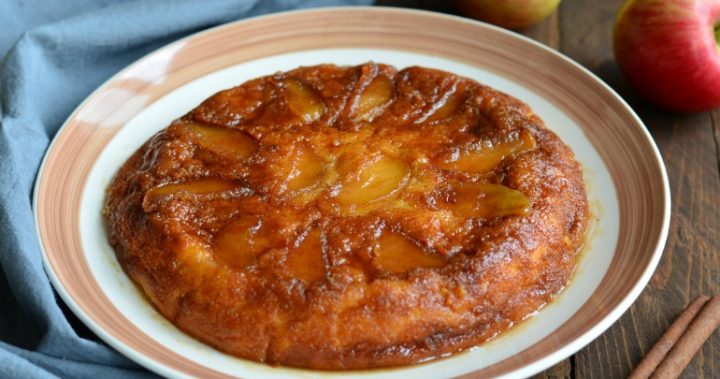 This caramel apple upside-down cake is delicious, and just the right mix of sweet and fruity, as the flavours of the sticky, sweet caramel combine with the tartness of the granny smith apples.
You can use either pre-prepared caramel, or make your own by boiling tins of condensed milk.
It's a simple dessert to make, but it sure is impressive looking (and tasting)!
Ingredients
1 ½ cups plain flour
⅓ cup sugar
1 teaspoon baking powder
2 eggs
⅓ cup oil
⅓ cup milk
1 teaspoon vanilla extract
2 tablespoons butter
1 cup tinned caramel
3 granny smith apples, peeled and thinly sliced
Vanilla ice cream or cream, to serve
Method
1. Preheat oven to 180C.
2. In a large mixing bowl, combine flour, sugar, baking powder, eggs, oil, milk, and vanilla extract until well combines, then set aside.
3. Bring caramel and butter to the boil in a small saucepan, stirring continuously, then immediately pour into a large round cake tin.
4. Layer the apples in the caramel in a circular, overlapping pattern, then pour the cake batter over the top.
5. Bake for 25 minutes, then stand to cool. Once cooled, place a large plate over the cake tin and then tip over quickly to turn out cake.
6. Slice and serve with cream or ice cream.