Delicious blueberry breakfast cake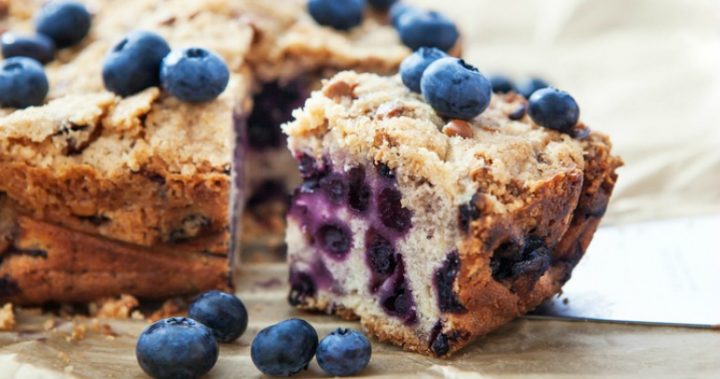 If you're not much of a breakfast person, but a self-confessed sweet addict, the blueberry breakfast cake might be just for you.
Slightly sweet, the blueberry breakfast cake is perfect for an easy morning or a delightful afternoon. Similar to a shortcake, the crumb is dense and tender, and is filled with fresh and juicy blueberries.
While it's not an everyday breakfast, it certainly is perfect for a special treat once in a while!
This recipe works best in a pan, spooned out and topped with a serve of berries and yoghurt on top. If you're going to eat dessert for breakfast, you might as well go all out!
Ingredients
½ cup unsalted butter at room temperature
2 tsp lemon zest
1 cup sugar
1 egg at room temperature
1 tsp good-quality vanilla extract
1 and ¾ cup plus ¼ cup plain flour
2 tsp baking powder
1/2 tsp salt
2 cups fresh blueberries
½ cup buttermilk
1 tbsp turbinado sugar, for sprinkling on top (or use regular sugar)
Method
1. Preheat oven to 180C, and prepare a 23x23cm square pan with cooking spray. Set aside.
2. In a large bowl, beat butter, sugar and lemon zest together until light and fluffy.
3. Add the egg and vanilla. Beat on medium speed until completely combined.
4. In a small bowl, whisk together 1 and ¾ cup flour, baking powder and salt.
5. Toss the remaining ¼ cup flour with blueberries, and set aside.
6. Add and a third of the flour mixture to the butter and sugar mixture. Beat until just moistened.
8. Add half of remaining flour mixture, followed by remaining buttermilk, and then the rest of the flour mixture, beating until just combined after each addition.
9. Carefully fold in blueberries, taking care not to smash them. Spread the batter into the prepared pan. Sprinkle with turbinado sugar.
10. Bake for 35 to 45 minutes or until a cake-tester comes out clean. Allow to cool 15 minutes before serving.
Spoon into a bowl and enjoy!