Delicious beef stir fry with peanuts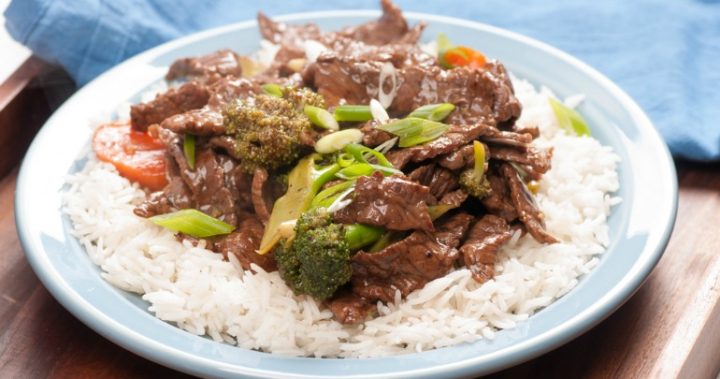 If you love a quick and delicious stir fry you have to give this recipe a go! The Chinese five spice really gives it that authentic flavour and the whole thing is just so easy to make you'll be coming back to it time and time again.
You can serve it up with noodles, like instructed in this version, or use rice instead if you prefer. Same goes for the veggies – you can use the ones suggested or mix it up and add your favourites or whatever you have leftover in the fridge!
Drizzle a little soy sauce over the top when serving and sprinkle over some chopped peanuts for crunch.
Ingredients
200g stir fry beef strips
2 teaspoons cornflour
1 teaspoon Chinese five spice
1 carrot, peeled
1 small leek, trimmed
6 spring onions, sliced diagonally
½ red capsicum, seeded and cut into strips
100 g dried rice noodles
1½ tablespoons soy sauce
1½ tablespoons rice wine
1½ tablespoons vegetable oil
1 large garlic clove, finely chopped
2 cm piece fresh ginger, peeled and finely chopped
1 red chilli, seeded and finely chopped
1/4 cup peanuts, chopped, to serve
Method
1. Place beef strips in a small bowl with the cornflour and five-spice powder. Mix together until the meat is coated.
2. Cut the carrot and leek into 5 cm lengths, then cut each piece into thin matchsticks. Put them in a bowl along with the spring onions and capsicum.
Soak the noodles in a bowl of lightly salted boiling water for 3 minutes. Drain and refresh in cold water, then drain again. Combine the soy sauce, rice wine and 1½; tablespoons of water in a small jug or bowl.
3. Place a wok or a large frying pan over a high heat. When hot, add 1 tablespoon of the oil and, when it has just begun smoking, toss in the meat and stir-fry for 2–3 minutes until cooked through. Remove with a slotted spoon. Add the remaining oil with the garlic, ginger and chilli. Stir-fry for 30 seconds, then add the vegetables and toss these around for another 30 seconds.
4. Stir in the soy sauce mixture and as soon as the liquid is bubbling, mix in the drained noodles and, finally, the meat. Serve immediately, with a little soy sauce and peanuts sprinkled over the top.