Delicious BBQ ribs in your pressure cooker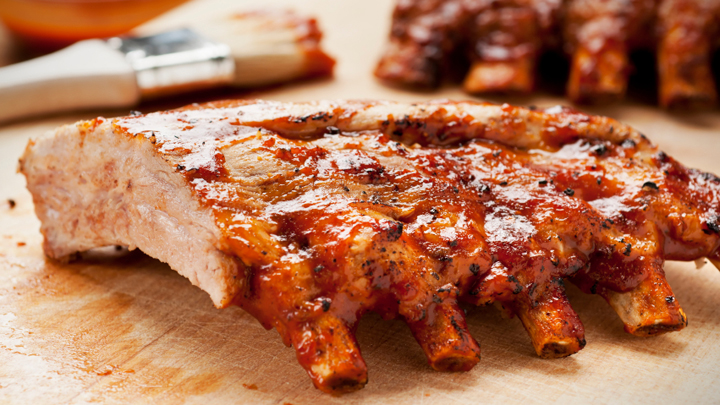 Here is a clever hack to cut down the time to cook ribs. Soon you'll be able to make delicious, fall-off-the-bone ribs without the long, hot and tiring process of the past. Instead of the usual three to four hours, you'll just need about an hour and a pressure cooker. It tastes exactly the same yet is made in a fraction of the time. No matter how good they look, you must wait five minutes before eating so you don't burn your mouth!
Ingredients
Ribs
Rack of baby back ribs
BBQ seasoning
1/2 cup of any liquid (water or stock)
1/2 teaspoon liquid smoke
Ad. Article continues below.
BBQ sauce
1/2 cup onion, chopped
3 teaspoons water
Extra virgin olive oil
3 cups tomato sauce
4 garlic cloves, minced
3 tablespoons apple cider vinegar
1 tablespoon tomato paste
1 tablespoon Worcestershire sauce
1 tablespoon smoked paprika
1 teaspoon dry mustard
1/2 teaspoon cayenne (optional)
1 teaspoon ground pepper
Method
Time: 30 to 45 minutes
Ad. Article continues below.
Chop the rack of ribs into four pieces and rub them with seasoning; pat down into the ribs.
Place ribs in pressure cooker and arrange in a fan shape so that they'll fit and steam equally.
Add 1/2 cup of water or stock and 1/2 teaspoon to give the meat a proper BBQ flavour.
Lock the lid down and set cooking time to 30 minutes. If you're using a stovetop pressure cooker, follow the manufacturer's directions.
Preheat oven for 220C
After 30 minutes, release the pressure on your cooker, unlock the lid and use tongs to arrange ribs on the foil-lined baking sheet.
Brush ribs with sauce and bake for 10 minutes on each time, turning once, until the sauce is burnt and sticky.
Sauce
Blend onion and water into a puree. Heat sauce pan with oil over medium heat.
When pan is hot, add onion puree and reduce heat to a medium low and simmer until the onion is golden and water is almost gone.
Add the rest of the ingredients. Stir and cook for about 20 minutes until thick. Remove from heat and cool.
Tell us, have you ever made ribs? Will you try this pressure cooker recipe?