Delicious banana, raspberry and coconut bread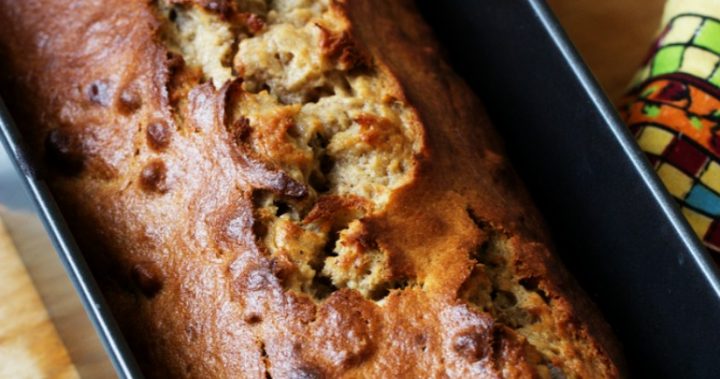 This fabulous and moist banana bread has a great bang of flavour, and raspberries are delicious at the moment.
Nothing will make your home feel more cosy than a slice of this banana, raspberry and coconut bread with a cup of tea and a great novel. It is simple, delicious and you you will love it!
Ingredients
130g butter, softened
1 3/4 cups plain flour, sifted
1 cup brown sugar
1 teaspoon baking powder, sifted
1 teaspoon bicarb soda
2 eggs
2 -3 large bananas, mashed
1 cup frozen raspberries
1/2 cup desiccated coconut
1 teaspoon ground cinnamon
1 teaspoon vanilla essence
2 tablespoon golden syrup
Method
1. Preheat oven to 160C and lightly grease the loaf tin and line with baking paper.
2. Place the butter, sugar and vanilla in an electric mixer and beat for 8–10 minutes until well mixed and creamy.
3. Combine gradually the eggs and beat well with the mixer.
4. Add the mashed banana, raspberries, coconut, flour, baking powder, bicarbonate of soda, cinnamon and golden syrup and stir to combine.
5. Spoon the mixture into the loaf tin and place in the oven.
6. Bake for 60–70 minutes or until skewer inserted into centre comes out clean.
7. Cool in the tin for 15 minutes before removing from the tin and placing on a cooling rack.
8. Enjoy hot, cold, or toasted, plain or with a big dollop of butter.