Deli-style barbecue chicken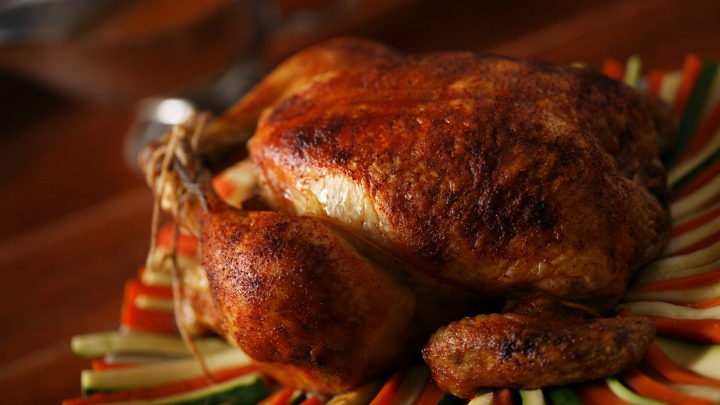 Getting a really good barbecue chicken from the supermarket is hit and miss at the best of times. Sometimes they're not dark and crispy enough, sometimes they're too small, and sometimes the flavour just isn't there. This recipe eliminates all of that though and delivers a spot on tender roast chicken packed with flavour. The blend of spices make that tasty crispy skin and best of all it's super easy to make. Plus, it's way cheaper than buying it at the deli counter! Give it a go, you won't go back…
Ingredients
4 teaspoons salt
2 teaspoons paprika
1 teaspoon onion powder
1 teaspoon dried thyme
1 teaspoon white pepper
1/2 teaspoon cayenne pepper
1/2 teaspoon black pepper
1/2 teaspoon garlic powder
2 onions, quartered
2 whole chickens
Method
1. In a small bowl, mix together salt, paprika, onion powder, thyme, white pepper, black pepper, cayenne pepper, and garlic powder. Remove and discard giblets from chicken. Rinse chicken cavity, and pat dry with paper towel. Rub each chicken inside and out with spice mixture. Place 1 onion into the cavity of each chicken.
Ad. Article continues below.
2. Place chickens in a resealable bag or double wrap with plastic wrap. Refrigerate overnight, or at least 4 to 6 hours.
3. Preheat oven to 165C. Place chickens in a roasting pan. Bake uncovered for 1.5-2 hours or until cooked through. Let the chickens stand for 10 minutes before carving.
—————————————————–
If you'd like to see more recipes from Starts at 60, click here. And if you have a recipe you'd like to share with the Starts at 60 community – we'd love to share it! Submit them to us by completing the form below.
Submit your article here