Delectable caramel and pecan tart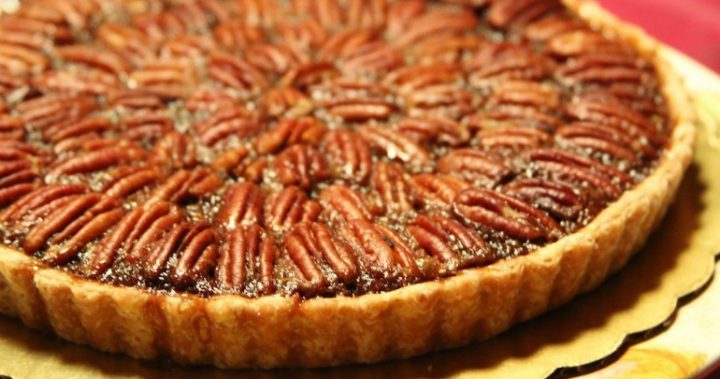 This scrumptious tart is easy-to-make and full of flavour.
It's a great Christmas dessert to pull out for the family and is extra tasty warmed up in the microwave and served with a dollop of thickened cream.
Bursting with flavour the tart uses roasted pecans, candied filling, and fluffy pastry to create a mouthwatering snack that will have you coming back for seconds.
Any leftovers can be used to create a delicious new dessert, too. Try breaking a slice of the tart into a bowl and mixing with a couple of scoops of ice cream for a scrumptious treat.
Ingredients
3 1/2 cups coarsely chopped pecans
2 cups all-purpose flour
2/3 cup powdered sugar
3/4 cup butter, cubed
1/2 cup firmly packed brown sugar
1/2 cup honey
2/3 cup butter
3 tbsp whipping cream
Method
Preheat oven to 180 ° and arrange your pecans in a tray, on top of baking paper.
Bake the pecans for 5-7 minutes until they are lightly toasted.
Remove from the oven and leave to cool.
Mix together flour, butter, and powdered sugar in a food processor until it mixes into a fine crumble.
Make a pastry casing by patting the mixture onto the base and sides of a lined or greased tart pan.
Bake at 180 ° for 20 minutes until slightly brown. Cool for 15 minutes before adding the filling.
Add the brown sugar, honey, 2/3 cup of butter and cream into a saucepan.
Bring to a boil and mix until combined.
Then mix in the roasted pecans and spoon into the tart base.
Place the tart in the oven and cook for 25-30 minutes at 180 ° until golden.
Serve with fresh cream to even out the richness.