Decadent lemon-and-herb roast chicken with veggies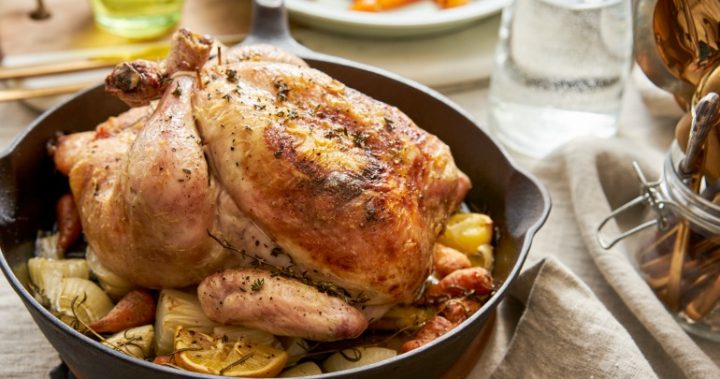 Get delicious crispy skin every time with this flavoursome roast chicken recipe. Perfect for Sunday dinner, this roast chicken is infused with a combination of lemon and herbs and seasoned to perfection with olive oil, salt and pepper.
It also features hardy roast vegetables, including fresh carrots, juicy celery and delicious roasted garlic. Like all good roasts, it's easy to prepare with everything chucked into the one baking tray and roasted together! While the method is easy, the flavour is incredible with juicy, tender meat on the inside and crispy skin on the outside.
Serve with a salad and buttered potatoes and use leftovers as a yummy sandwich filler for lunch the next day!
Ingredients
1 x 1.6 kg higher-welfare chicken
2 medium onions
2 carrots
2 sticks of celery
1 bulb of garlic
olive oil
1 lemon
1 bunch of mixed fresh herbs (thyme, rosemary, bay)
Method
Take the chicken out of the fridge 30 minutes before you want to start cooking so it can get to room temperature.
Preheat oven to 240°C.
Without peeling them, wash and roughly chop up all the vegetables.
Break up the garlic bulbs into separate cloves.
Take a large roasting tray and place all the vegetables inside then drizzle the oil over the top.
Dry the chicken by patting it with a paper towel inside and out.
Season the chicken's outer skin with salt and pepper and drizzle the oil over the top- make sure you rub the salt and pepper into the skin well.
Place the chicken on top of the vegetables in the roasting pan.
Get out your lemon and prick it all over with a knife the stuff it in the chicken cavity along with all the herbs.
Place the chicken and veggies in the oven and turn the temperature down to 200°C.
Cook the chicken for 1 hour and 20 minutes, make sure you check on the chicken halfway through and re-baste it if it is looking dry.
Once cooked remove the tray and place it on a cooling rack.
Cover the tray with alfoil and a tea towel for 15 minutes.
Serve with vegetables and gravy.
With Facebook removing news sites from your feeds we ask that you sign up for Starts at 60's emailers here. And to keep us on your wall, join some of our new Facebook groups and clubs:

News Junkies Club – Australia
News Junkies Club – USA

See news on the change and links to all our other clubs and groups here.