Curried vegetable fritters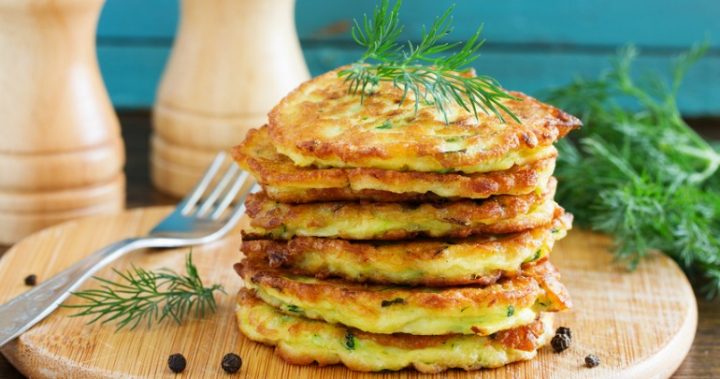 These tasty fritters are a great way to start the week with a good dose of veggies and a big hit of flavour! There extremely versatile so you can mix in whatever vegetables you have on hand and even add a little diced ham if you want. The batter makes enough for about four people so any extras can be wrapped in cling wrap and kept in the fridge for lunch the next day. They work really well served with a dollop of yoghurt, a squeeze of lemon and a simple salad on the side. Enjoy!
Ingredients
1 medium zucchini, grated
1 large carrot, peeled, grated
1/2 (125g) small sweet potato, peeled, grated
1 small red capsicum, finely chopped
2 teaspoons mild curry powder
100g ham, diced (optional)
Plain yoghurt, to serve
Basic batter
2/3 cup self-raising flour
2 eggs
1/2 cup milk
Ad. Article continues below.
Method
1. Make Basic batter: Sift flour into a bowl. Make a well in the centre. Whisk milk and eggs together in a jug. Add egg mixture to flour. Whisk until smooth.
2. Using hands, squeeze excess moisture from zucchini and carrot. Add zucchini, carrot, sweet potato, capsicum and curry powder to batter. Stir to combine.
3. Heat 1 tablespoon oil in a frying pan over medium heat. Using 1/4 cup mixture per fritter, cook 4 fritters for 3 minutes each side or until golden and cooked through. Repeat to make 12 fritters. Serve with yoghurt.
—————————————————–
If you'd like to see more recipes from Starts at 60, click here. And if you have a recipe you'd like to share with the Starts at 60 community – we'd love to share it! Submit them to us by completing the form below.
Submit your article here