Crispy coconut chicken strips with a tropical twist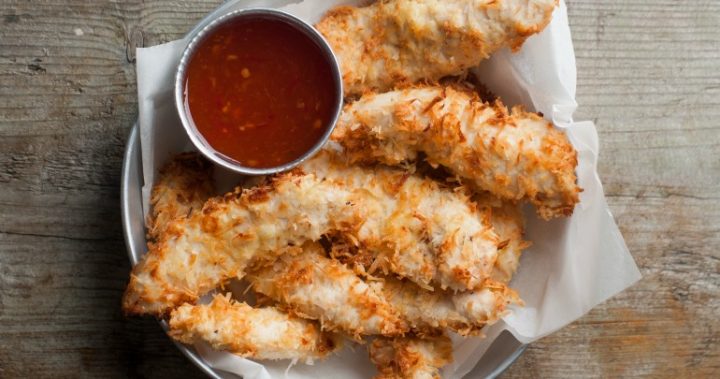 If you've often got a house full of hungry grandchildren, chances are they'll request some sort of junk food when it comes to lunchtime.
While these naughty treats are fine when eaten in moderation, you probably feel guilty once you've pumped your little ones with unhealthy snacks.
Thankfully, we've got a fun and tasty recipe that'll allow you to treat your grandkids (and partners) while knowing you're feeding them something nutritious. Homemade crispy coconut chicken strips are tasty, healthy and a fun twist on a snack loved by people of all ages.
Ingredients
Vegetable oil
½ cup cornflour
¼ tsp salt
1/8 tsp pepper
3 eggs
4 cups coconut flakes
4 skinless chicken breasts
Method
Pour vegetable oil in pan. Place on stove and heat on medium.
Mix cornflour, salt and pepper in one bowl.
Add eggs to a second bowl and beat.
Add coconut flakes to a third bowl.
Cut chicken breast into small chunks or strips.
Place each piece of chicken in cornflour mixture.
Dip chicken into egg, ensuring it's covered well.
Coat each piece in coconut.
Add chicken to pan, ensuring pieces don't touch each other. Cook for 4 mins, flip, and cook for another 4 mins or until brown.