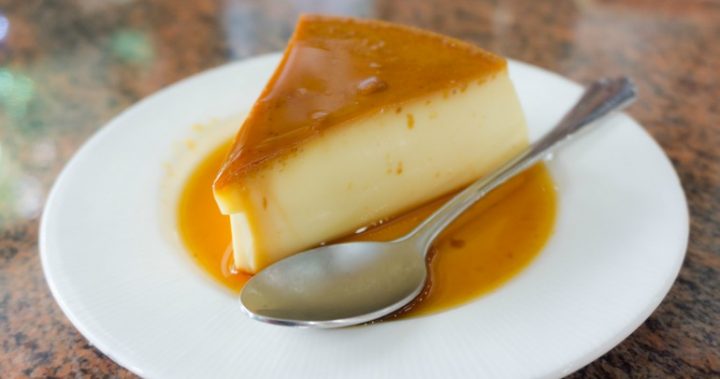 We don't seem to see this beautiful dessert around as much as we used to, which is a shame because it's absolutely delicious!
The combination of that smooth, creamy flan with the sweet, sticky caramel sauce is a total standout and makes it that much easier to polish off every time! Surprisingly, it's easy to whip up, too. You need to let it chill in the fridge for eight hours, so if you're preparing for guests make the recipe the day or night before and pull it out when you're ready to serve. Yum!
3/4 cup caster sugar
1 package cream cheese, softened
5 eggs
400g can sweetened condensed milk
375ml can evaporated milk
1 teaspoon vanilla extract
1. Preheat oven to 175C. In a small, heavy saucepan over medium-low heat, cook sugar, stirring, until golden. Pour into a 10-inch round baking dish, tilting to coat bottom and sides. Set aside.
2. In a large bowl, beat cream cheese until smooth. Beat in eggs, one at a time, until well incorporated. Beat in condensed and evaporated milk and vanilla until smooth. Pour into caramel coated pan. Line a roasting pan with a damp kitchen towel. Place baking dish on towel, inside roasting pan, and place roasting pan on oven rack. Fill roasting pan with boiling water to reach halfway up the sides of the baking dish.
Ad. Article continues below.
3. Bake in preheated oven 50 to 60 minutes, until centre is just set. Cool one hour on wire rack, then chill in refrigerator 8 hours or overnight. To unmold, run a knife around edges of pan and invert on a rimmed serving platter.
—————————————————–
If you'd like to see more recipes from Starts at 60, click here. And if you have a recipe you'd like to share with the Starts at 60 community – we'd love to share it! Submit them to us by completing the form below.
Submit your article here