Creamy parmesan mushroom chicken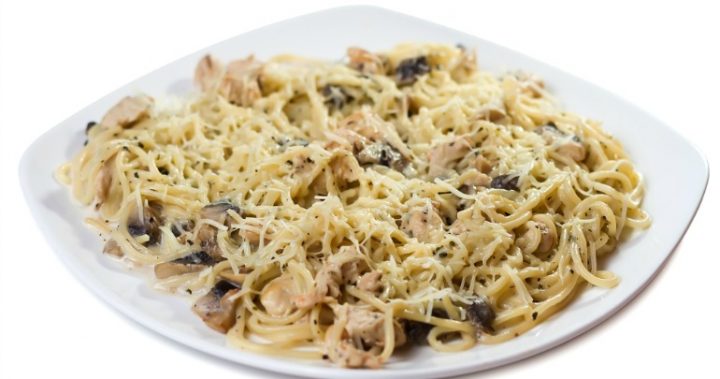 Most people love a good pasta, and this one tastes like it's from your favourite Italian restaurant. 
This creamy chicken and mushroom pasta sauce is perfect for any lover of pasta. Taking only 30 minutes to prepare, it is an excellent choice for a weeknight meal, and is guaranteed to be a hit with the whole family. 
It is creamy, cheesy, and comforting, with a good balance of protein, carbs, and veggies, and will leave everyone satisfied. 
Ingredients
4 skinless chicken breasts, sliced
2 tablespoons olive oil
200g sliced mushrooms
¼ cup butter
2 garlic cloves, crushed
1 tablespoon flour
½ cup chicken stock
1 cup cream 
½ cup grated parmesan cheese
¼ teaspoon pepper
½ teaspoon salt
1 cup spinach, chopped
500g your favourite pasta
Ad. Article continues below.
Method
1. Heat olive oil in a large frypan on medium-high heat and cook the chicken for 3-5 minutes on each side and until no longer pink in centre. Remove chicken and set aside. Add mushrooms and cook until tender then remove and set aside.
2. Melt butter in the pan, then add garlic and cook until tender. Add flour and whisk until sauce thickens, then add chicken broth, cream, parmesan, salt and pepper. Add the spinach last and simmer until sauce thickens and spinach wilts.
3. Return chicken and mushrooms to the sauce and serve with pasta.