Creamy lemon crumble slice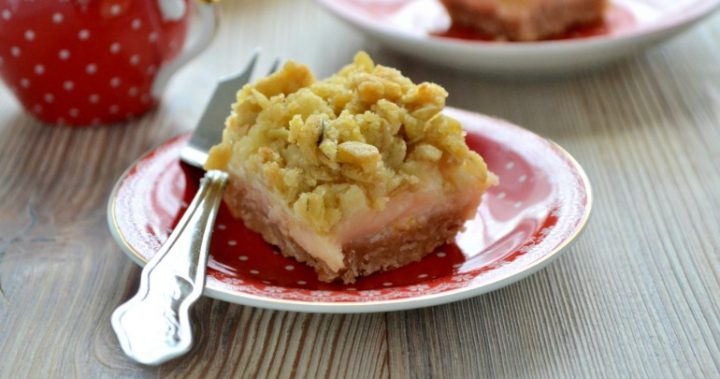 Could this be the best lemon slice ever? It's certainly given other recipes a run for their money! This amazing slice has three delicious layers, starting with the vanilla oat base and followed by the creamy lemon filling and crumbly oat topping. Every bite is absolutely amazing and it's sure to become a fast favourite in the kitchen. Yum!
Ingredients
1 1/4 cups plain flour
1 1/4 cups rolled oats
1/2 teaspoon salt
1/2 teaspoon bicarb soda
1/2 cup raw sugar
1/2 cup packed brown sugar
1 teaspoon vanilla extract
3/4 cup unsalted butter, melted
1 (395g) tin sweetened condensed milk
1 tablespoon finely grated lemon zest
1/3 cup fresh lemon juice
2 large egg yolks
1/2 teaspoon lemon extract
Method
1. Preheat oven to 170C. In a large bowl, whisk together flour, rolled oats, salt and bicarb soda. Stir in the raw sugar and brown sugar and mix until smooth.
Stir vanilla into melted butter and pour mixture over dry ingredients. Stir mixture until well combined. Pop half of the crumb mixture into the bottom of a greased slice tin and press into an even layer. Bake in preheated oven for 15 minutes.
Ad. Article continues below.
2. Remove from oven and put aside (leave the oven turned on). In a bowl, whisk together sweetened condensed milk, lemon zest, lemon juice, egg yolks and lemon extract until well blended.
3. Pour mixture over crumb crust in baking dish and spread into an even layer. Sprinkle the remaining crumble mixture over the top of the lemon layer. Bake in oven for 23 – 26 minutes or until lightly golden.
4. Remove from oven and allow to cool. Cover and refrigerate for at least 1 hour then cut into squares. Store in airtight container in refrigerator.
—————————————————–
If you'd like to see more recipes from Starts at 60, click here. And if you have a recipe you'd like to share with the Starts at 60 community – we'd love to share it! Submit them to us by completing the form below.
Submit your article here