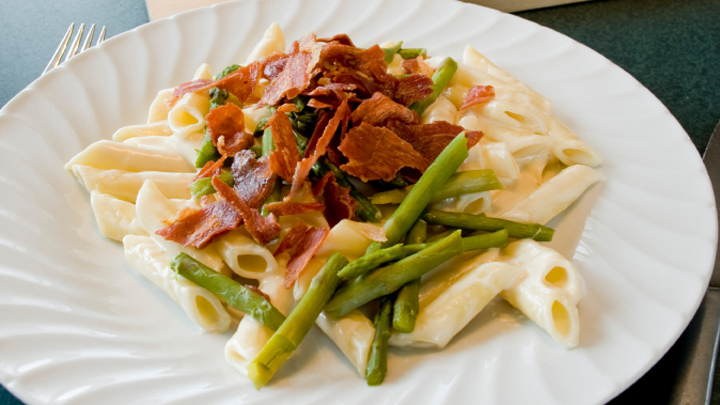 Are you looking for a beautiful, warm, aromatic recipe to fill your house with that wonderful smell in the lead up to winter?
This creamy chorizo carbonara is similar to your traditional carbonara pasta but with something a little different – spicy pork sausage!
Try this recipe when you have a dinner for two, or even for the whole family.
Serves 4 | Ready in 15 minutes
Ad. Article continues below.
Ingredients
320g penne pasta
4-6 sticks of asparagus (optional)
70g chorizo
4 garlic cloves
35g mozzarella cheese, finely grated
1 red chilli
1 egg
2 tbsp natural yoghurt
1/4 cup lemon juice (freshly squeezed)
olive oil
Method
Cook the pasta in separate saucepan/pot in boiling water. Add asparagus in last 5 minutes if desired.
While the pasta is cooking, slice the chorizo, chilli and rosemary finely, crush the garlic, and simmer all in olive oil until golden.
Beat the egg, lemon juice, yoghurt and mozzarella together in a bowl
Drain the pasta, reserving a cup of the starchy cooking water
Combine the pasta and asparagus with the chorizo pan, remove from the heat and mix well with the creamy sauce, loosening with a splash of cooking water if needed.
Ad. Article continues below.
—————————————————–
If you'd like to see more recipes from Starts at 60, click here. And if you have a recipe you'd like to share with the Starts at 60 community – we'd love to share it! Submit them to us by completing the form below.
Submit your article here