Country chicken and mushroom pies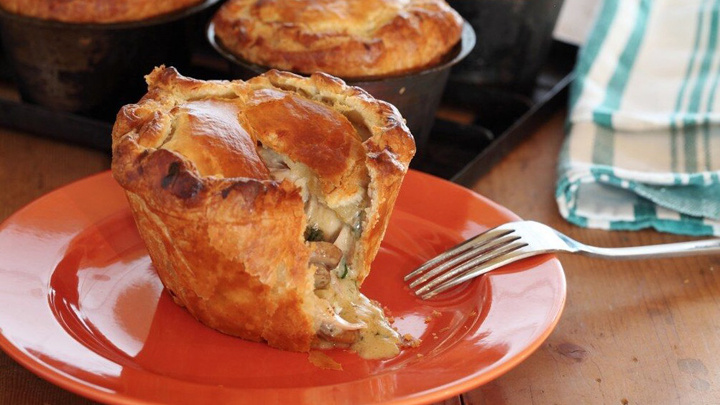 As we warm up and get cozy for winter, our minds often go back to that delicious smell of chicken pies. Maggie Beer, revered cook and food lover, has kindly provided us with her tried and tested country chicken and mushroom pie recipe, which is an absolute winner.
Makes 6 pies
Ingredients
6

free range chicken marylands, skin on (can be replaced with thighs or drumsticks)

Freshly ground black pepper (to taste)

3 tbsp

 

Extra Virgin Olive Oil

50g

unsalted butter, s

oftened

7

large mushrooms,

chopped

¼ cup

unbleached plain flour

2 tbsp

 

flat leaf parsley

chopped
Ad. Article continues below.
Method
Preheat the oven to 200C.
Season the chicken marylands with sea salt and pepper.
Butter a 24 centimetres x 18 centimetre baking dish. Place the seasoned chicken marylands into the baking dish, drizzle with Extra Virgin Olive Oil, and put into the oven to roast for 20 minutes.
Remove from the oven and allow to rest for 15 minutes, loosely covered with foil.
Meanwhile, heat the chicken stock over a medium high heat in a small pot.
Place a large saucepan over a high heat, add the butter and once this has turned nut brown, add a dash of Extra Virgin Olive Oil to inhibit burning. Add the mushrooms and fry for 4 to 5 minutes.
Sprinkle the flour over the mushrooms and cook for a further couple of minutes.
Gradually stir in the hot stock, then the cream. Simmer gently until the mixture has thickened.
Remove the meat from the marylands and chop in to 1 centimetre pieces, then fold through with the herbs into the mushroom mixture. Season to taste.
Refrigerate until chilled.
Make the pastry and once chilled, roll to 3 millimetre thick and cut to line greased pie dishes, leaving a 'lip' over the edge.
Cut out six smaller rounds – these are the pie lids.
Fill the cases with the chilled chicken mixture. Egg wash the pastry lip and seal the lids in place. Trim the pastry and score the top of each pie. Egg wash the tops of the pies and refrigerate for 20 minutes.
Increase the oven temperature to 220C.
Place the pies onto a flat baking tray then place the pies into the oven and bake for 20 minutes. Reduce oven to 180C and bake for a further 5 – 10 minutes until golden brown.
Remove from the oven and serve.
For this and other great winter recipes, Maggie Beer's latest book Winter Harvest is out now here.