Tasty vegetarian spinach and ricotta rolls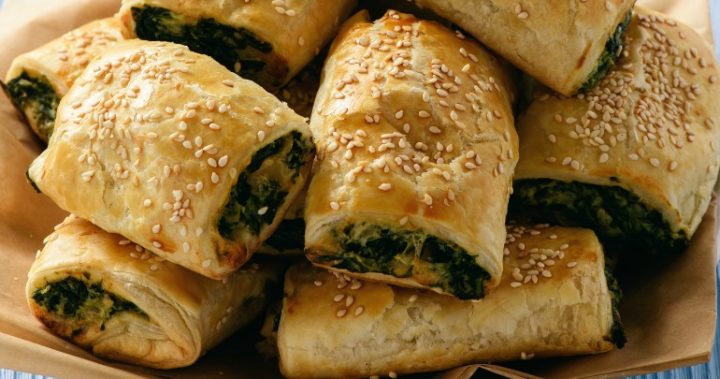 These rolls are the much-needed vegetarian version of the classic sausage roll. Not only are they better for you, but the creamy ricotta filling might just be enough to make these your new favourite.
You can make them in bulk and bring them to get togethers with family or friends, picnics or have them as a side dish for dinner. One bite into these pastry delights will have you coming back for more! Yum!
Ingredients
2 teaspoons olive oil
4 green shallots, trimmed, thinly sliced
2 garlic cloves, crushed
350g pkt frozen chopped spinach, thawed
350g fresh ricotta, crumbled
40g (1/2 cup) finely grated parmesan or vegetarian hard cheese
1 egg, lightly whisked, plus 1, extra, whisked
2 tablespoons chopped fresh dill
1 lemon, rind finely grated
Good pinch of ground nutmeg
2 sheets frozen puff pastry, just thawed
Sesame seeds
Method
Preheat oven to 200C. Line 2 baking trays with baking paper. Heat oil in frying pan over medium heat. Add shallot and garlic, cook and stir constantly for 2 minutes or until tender.
Place spinach in a sieve set over a bowl. Press spinach down to squeeze out any extra liquid. Discard excess water. Add spinach to shallot mixture. Add ricotta, parmesan, egg, dill, lemon rind and nutmeg. Season. Mix with hands until completely combined.
Cut pastry in half. Place one quarter of spinach mixture on long side of 1 piece of pastry. Roll to enclose. Cut into thirds. Place, seam down, on baking trays. Repeat with remaining pastry.
Score pastry at 5mm intervals. Brush with extra egg. Sprinkle sesame seeds over the top of each roll. Bake for 25 minutes or until golden brown. Serve hot.