Tasty olive, pumpkin, and feta savoury muffins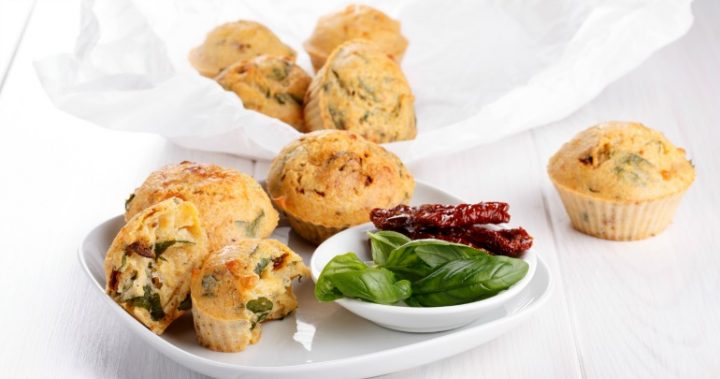 These tasty muffins make the perfect lunch or snack on the go. Make in advance for a fuss-free bite to eat, or serve up warm with a dollop of sour cream and chutney for something a little more substantial.
With olives, feta, sundried tomatoes, and pumpkin, they are choc-full of yummy and healthy ingredients – or you can tweak it to add whatever ingredients you'd prefer!
After baking, these savoury muffins are perfectly moist.
Ingredients
2 cups plain flour
1 teaspoon baking soda
1 teaspoon baking powder
1/2 cup butter, melted
2 tablespoons sugar
2 eggs, room temperature
1 tablespoon vinegar
250ml milk
1 cup pumpkin, grated
200g feta, crumbled
1 cup grated cheddar cheese
1/2 cup olives, sliced
1/2 cup sundried tomatoes, roughly chopped
Method
Preheat oven to 180C, and spray a 12 cup muffin tin with nonstick cooking spray.
Sift together flour, baking soda, and baking powder. In a separate bowl, whisk eggs, then add sugar, whisking until pale in colour. Add melted butter and whisk until combined, then repeat with the milk and vinegar.
Add pumpkin, feta, cheese, sundried tomatoes, and olives to the egg mixture, then carefully fold in flour until just combined.
Divide batter evenly into the muffin tin, then bake for 30 minutes or until golden brown and a skewer inserted into the centre comes out clean.