Leek and feta omelette for one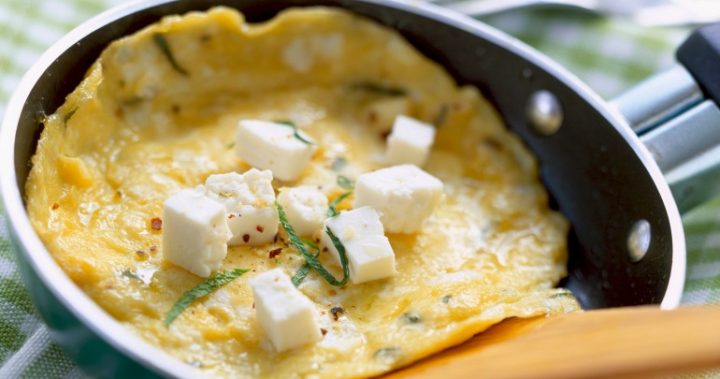 This omelette is a super simple dish to cook up for breakfast, lunch or dinner. It mostly involves ingredients that you can find in your pantry and will save you time and money if you are just cooking for yourself. Give your body a healthy treat with this delicious omelette that is full of good nutrients.
It's the perfect meal for one that will clear out your pantry but also taste absolutely delicious!
Ingredients
25g butter
1 leek, trimmed, halved lengthwise, thinly sliced
1 cloves garlic, crushed
1/8 cup tarragon leaves, finely chopped
50g baby spinach, plus extra, to serve
3 eggs
1 tablespoon finely chopped flat-leaf parsley
40ml olive oil, plus extra, to drizzle
25g Persian (marinated) feta, crumbled
Method
In a large frying pan, melt butter over medium heat. Add leek, garlic and tarragon. Cook for 15 mins, stirring occasionally, until leek is tender. Mix in spinach. Cook for 30 secs to wilt spinach. Season well with salt and pepper.
In a large bowl, whisk together eggs, parsley and 1 tablespoon of cold water. In a 26cm non-stick frying pan, heat oil over medium-high heat. Pour half of the egg mixture into pan and swirl to coat the base. Cook for 2 mins and wait until top is almost set and base is golden.
Pour in leek mixture into one half of the omelette. Fold omelette in half. Transfer to plate and scatter each half wth feta and spinach.
Drizzle extra oil on top. Serve hot.