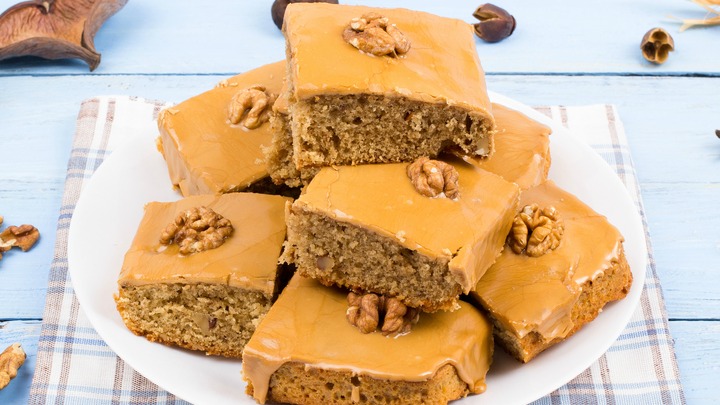 There are so many different recipes for coffee cake out there and many of them seem to come with thick, buttery frostings that can often overpower the beautiful flavours in the cake. Instead, this version comes with a gorgeous coffee glaze that works perfectly with the cake and adds just the right amount of that extra coffee hit you want in a treat like this. Enjoy!
Ingredients
150g caster sugar
150g butter or margarine
3 eggs
150g self raising flour
1 1/2 tsp baking powder
1 tbsp hot water
1 tbsp instant coffee (add more if you like it strong)
Coffee icing
1 tablespoon boiling water
2 teaspoons instant coffee
150g (1 cup) icing sugar mixture
Method
1. Preheat the oven at 160C. Grease a large square cake tin and line with baking paper. Add the sugar and the butter to a bowl and whisk until very fluffy and a pale cream.
2. Whisk eggs then add gradually to the mixture with 1 tbsp of flour each time. Make sure you don't use all the flour. Add the rest of the flour and the baking powder to the mixture and fold it in gently.
3. Dissolve the coffee in the boiling water and add to the mixture still folding. Divide into the sandwich tins and cook for 30 minutes.
4. To make the coffee icing, combine water and coffee in a bowl. Place the icing sugar in a bowl. Gradually add the coffee mixture, stirring until a smooth paste forms. Spread over the cake and set aside for 15 minutes to set.
—————————————————–
If you'd like to see more recipes from Starts at 60, click here. And if you have a recipe you'd like to share with the Starts at 60 community – we'd love to share it! Submit them to us by completing the form below.
Submit your article here