Classic old-fashioned beef stew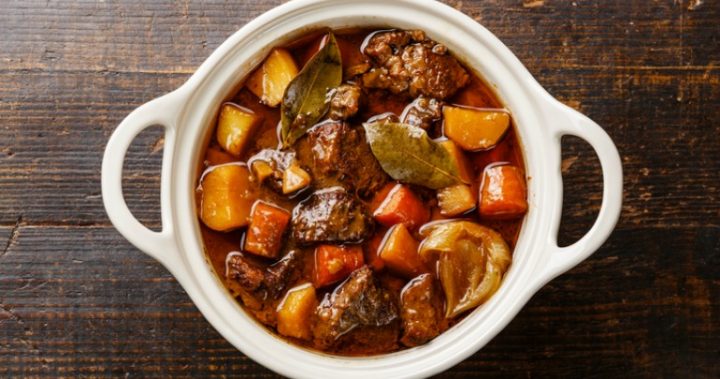 Comforting and hearty, what could be more inviting?
This classic beef stew is a family favourite thanks to its budget-friendly ingredients and mouthwatering flavours.
It's the perfect meal to come home to after a long day and its wholesome ingredients are great for a health kick.
While there are a lot of versions of this dish out there, this classic recipe is our favourite. It's super easy to make and the tender fall-apart beef and vegetables are truly delectable.
For an even tastier meal, prepare this dish the day before so the flavours have had time to develop into even more deliciousness by the time you serve it up!
Ingredients
1.4kg chuck steak, cut into 5cm pieces
3 tbsp vegetable oil
2 tsp salt
1 tbsp freshly ground pepper
2 yellow onions, cut into 2.5cm
1/4 cup flour
3 garlic cloves, minced
1 cup red wine
3 cups beef broth
1/2 tsp dried rosemary
1 bay leaf
1/2 tsp dried thyme
4 carrots, peeled, cut into 2.5cm slices
2 stalks celery, cut into 2.5cm slices
3 large russet potatoes, peeled, cut in eights
Methods
On medium-high heat, add vegetable oil to a large heavy pot (one with tight-fitting lid).
When it begins to smoke slightly, add beef, brown very well (do in patches if necessary).
Add salt and pepper as beef browns.
Add onions and toss for 5 minutes, until softened.
Reduce heat to medium-low, add flour and cook for 2 minutes stirring often.
Add garlic and cook for one minute.
Add wine and deglaze the pan, scraping any brown bits stuck to the bottom of the pan.
Flour will start to thicken the wine as it comes to a simmer.
Simmer wine for 5 minutes then add broth, bay leaves, thyme, rosemary and beef.
Bring back to a gentle simmer, cover and cook on very low for 1 hour.
Add potatoes, carrots, and celery and simmer covered for 3o minutes or until beef and vegetables are tender.
Taste and adjust seasoning.
Turn off heat and let sit for 15 minutes before serving.
Feel free to garnish with fresh parsley and enjoy!