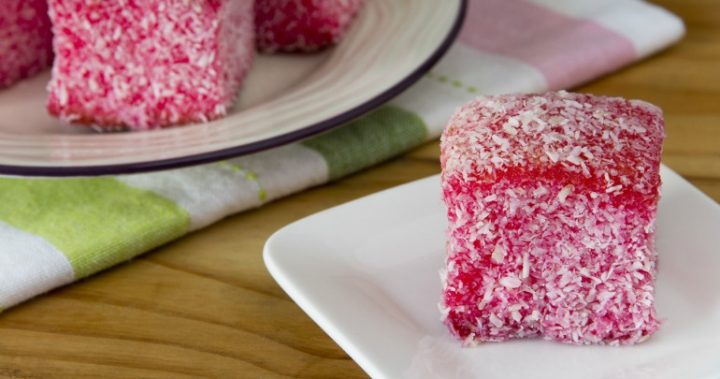 These jelly cakes are delicate and fresh, and look so pretty too. Light, airy sponge coated in pink jelly and rolled in desiccated coconut, these old favourites are easy to make and perfect for an afternoon tea with visitors, or for if you need to bring a plate to a function. 
They would be a perfect way to get the grandkids helping in the kitchen too with the jelly dipping and coconut rolling. 
Ingredients
125 grams butter, room temperature 
1/2 cup castor sugar
2 eggs, room temperature
1/2 cup milk
1.33 cups self-raising flour
1 packet pink jelly crystals
2 1/2 cups desiccated coconut
Method
Ad. Article continues below.
1. Preheat oven to 180C and spray a 20cm X 20cm square cake tin with nonstick cooking spray and line with baking paper.
2. Beat butter and sugar until creamy, then beat in eggs until just combined. Stir in flour and milk until smooth. Pour batter into cake tin and bake for 20 – 25 minutes or until a skewer inserted into the centre comes out clean. Allow to cool in tin for 10 minutes before turning out onto a wire rack.
3. Mix the jelly crystals according to the directions on the packet, and chill until partially set.
4. Cut the cake into Lamington sized squares, dip in the jelly, then roll in coconut to coat. Place cakes on a baking tray and refrigerate for 30 minutes.
5. To serve, cut in half and sandwich the two pieces together with fresh whipped cream in the middle. 
Store in an airtight container in the fridge.