Classic ham and cheese quiche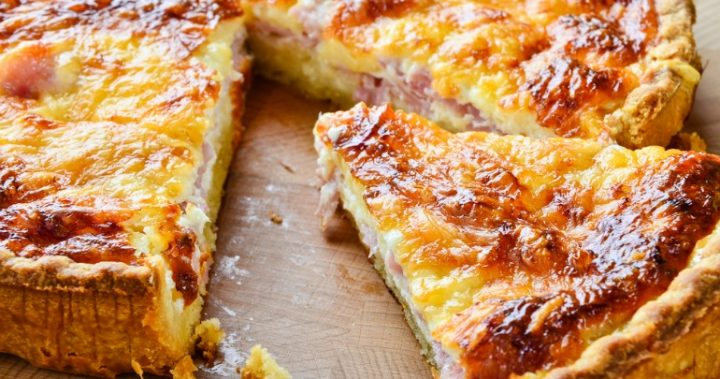 Proving quiche doesn't have to be fussy, this classic version is so easy to make and tastes amazing every time. The top turns lovely and bubbly and golden for that wow factor when you dish it up at the table. This recipe uses ready-made shortcrust pastry, but you can make your own if you like. Serve with a light salad and a lemon and olive oil dresses to cut through the richness of the quiche. It's great as leftovers the next day, too!
Ad. Article continues below.
Ingredients
3 eggs, beaten
3⁄4 cup milk
Salt and pepper, to season
1 cup diced ham
1 cup grated cheddar cheese
Shortcrust pastry
Method
1. Preheat oven to 180C. Lightly flour a clean, dry surface and lay your pastry on top. Roll out lightly until it's big enough to drape over a 22cm tart tin. Press into tin edges and trim the sides so pastry is level with top of tin. Cover with baking paper, then cover that with baking beads or rice. Bake in oven for 15 minutes, then remove baking paper and beads/rice and set aside.
2. Meanwhile, beat eggs with milk, salt and pepper in bowl. Add ham and cheese. Pour into tart tin and bake for 45 minutes. Let stand for several minutes before serving.