Classic chocolate and coconut slice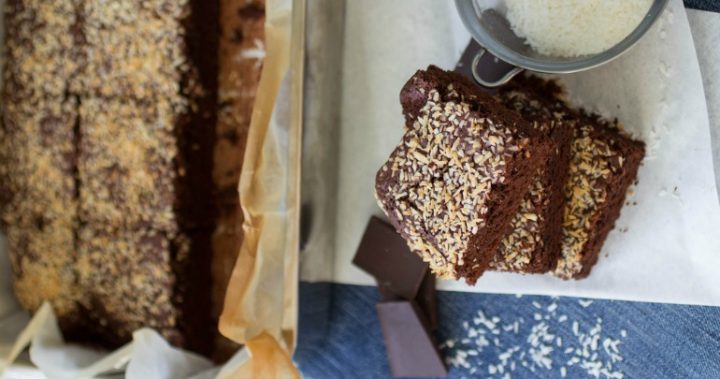 If you're looking for a sweet treat to fight off that mid-afternoon slump, you can't go past this classic Aussie slice.
Using simple ingredients, it tastes amazing – sweet and chocolatey, with that yummy crunch of toasted desiccated coconut. It will be sure to pick you up, and impress any unexpected visitors too!
Ingredients
Base
150g butter, melted and cooled
1 cup firmly packed brown sugar
1 egg lightly beaten
1 teaspoon vanilla extract
1/2 cup plain flour
1/3 cup self-raising flour
1/4 cup cocoa powder
1/2 cup desiccated coconut, lightly toasted
Icing
1.5 cups icing sugar
1/4 cup cocoa powder
20g butter, finely chopped
2 tablespoons boiling water
2 tablespoons extra desiccated coconut for sprinkling
Method
1. Preheat oven to 160C and grease and line a 20 x 30cm lamington tray with baking paper.
2. In a mixing bowl, stir together butter, sugar, egg and vanilla. Sift in flour and cocoa powder, and add half a cup of coconut, stir until combine then pour into prepared pan and spread evenly.
3. Bake for 25-30 minutes or until firm.
4. For the icing, sift icing sugar and cocoa powder into a bowl. Add butter and boiling water and stir, adding a little more water if you find it's too thick.
5. Spread icing over base and sprinkle with remaining coconut. Refrigerate until set.