Classic British sausage rolls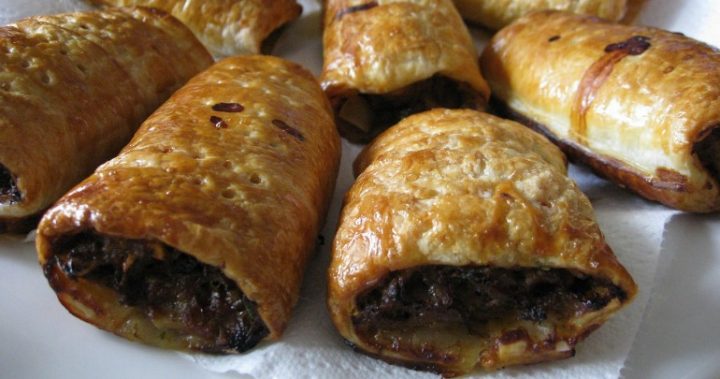 These tasty sausage rolls follow an old British recipe and use classic flavours like Worcestershire and HP sauce to really bring that tasty goodness with every bite. The pastry is golden and crispy, while the filling is packed with beef, parsley and four different types of sauce! Not only are they easy to whip up, they're great for when you have visitors over for an easy afternoon snack. Give 'em a go!
Ingredients
2 slices white toast bread, crusts removed, chopped
1/3 cup milk
500g beef sausage mince
1 small brown onion, grated
1 tbs tomato sauce
1 tbs Worcestershire sauce
1 tbs HP sauce or barbecue sauce
1 tbs sweet chilli sauce
¼ cup finely chopped parsley
2 sheets frozen ready-rolled butter puff pastry sheets, partially thawed
1 egg, whisked
2 tbs sesame seeds (optional)
Method
1. Preheat oven to 200C. Line a large baking tray with baking paper. Put bread into a bowl and cover with milk. Stand for 10 minutes.
Ad. Article continues below.
2. Using your hands, squeeze as much liquid from bread as possible and place bread into a bowl. Add mince, onion, sauces and parsley. Stir until well combined.
3. Place a sheet of pastry onto a flat surface. Cut in half. Form 1/4 of meat mixture into a long sausage shape along 1 edge of pastry. Roll pastry, enclosing filling. Cut into 5 small sausage rolls. Using the flat edge of a knife, form 3 ridges along each sausage roll. Transfer to prepared tray. Repeat with remaining mince mixture and pastry.
4. Brush sausage rolls with egg wash and sprinkle with sesame seeds. Bake for 25 minutes or until sausage rolls are golden and cooked through. Serve.
—————————————————–
If you'd like to see more recipes from Starts at 60, click here. And if you have a recipe you'd like to share with the Starts at 60 community – we'd love to share it! Submit them to us by completing the form below.
Submit your article here