Classic Australian meat pie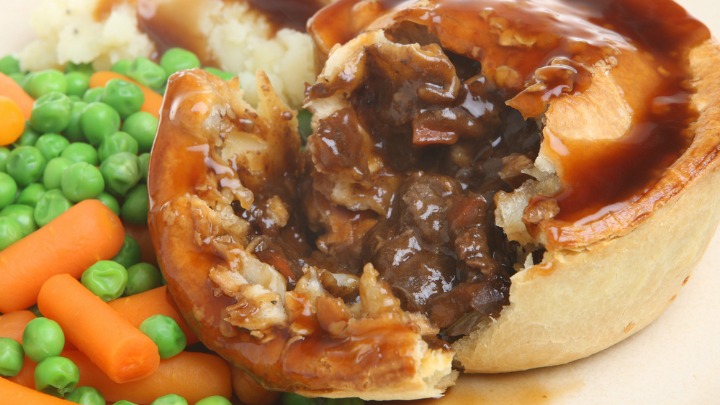 A meat pie is one of those classic Australian meals that can be enjoyed in so many different ways. You dress it up with mushrooms and onion and add special ingredients to the sauce to make it really sing. You can use shortcrust pastry for a smooth melt-in-your-mouth buttery flavour, or puff pastry for that gorgeous crunchy golden top. Best of all the humble meat pie is so versatile it works as a snack for trade workers enjoying smoko, or as a comforting dinner complete with mash and veggies. This recipe uses 1 cup of beer in the sauce for a bit of Aussie flair and it makes all the difference. Enjoy!
Ingredients
4 (about 650g) beef scotch fillet steaks, cut into 2cm pieces
2 tablespoons plain flour
2 tablespoons olive oil
1 brown onion, coarsely chopped
2 garlic cloves, crushed
2 teaspoons chopped fresh thyme
1 x 400g can chopped tomatoes
250ml (1 cup) beer
1 sheet (29 x 29cm) frozen ready-rolled shortcrust quiche pastry, just thawed
1 egg, lightly whisked
2 sheets (25 x 25cm) frozen ready-rolled puff pastry, just thawed
Method
1. Place the beef in a large bowl and sprinkle with flour. Season with salt and pepper. Gently toss to evenly coat.
2. Heat the oil in a large saucepan over medium heat. Add the onion, garlic and thyme and cook, stirring, for 5 minutes or until onion is soft. Season with salt and pepper. Add the beef and cook, stirring occasionally, for 5 minutes or until browned.
3. Stir in the tomato and beer. Bring to a simmer. Reduce heat to low and cook, covered, for 55 minutes or until beef is tender. Set aside for 30 minutes to cool.
4. Preheat oven to 220°C. Place a baking tray on the middle shelf. Cut the shortcrust pastry sheet into quarters. Line 4 round 3cm-deep, 12cm (base measurement) pie tins with shortcrust pastry, allowing the sides to overhang. Brush the edges with egg. Divide the beef mixture evenly among the pastry cases.
5. Cut each puff pastry sheet in half diagonally. Top the pies with puff pastry and trim excess. Press the edges to seal.
Brush the pies with egg. Cut a small cross in the centre of each pie. Place the pies on the baking tray and bake in oven for 25 minutes or until golden and puffed. Serve with tomato sauce.
—————————————————–
If you'd like to see more recipes from Starts at 60, click here. And if you have a recipe you'd like to share with the Starts at 60 community – we'd love to share it! Submit them to us by completing the form below.
Submit your article here