Chunky steak and pepper pie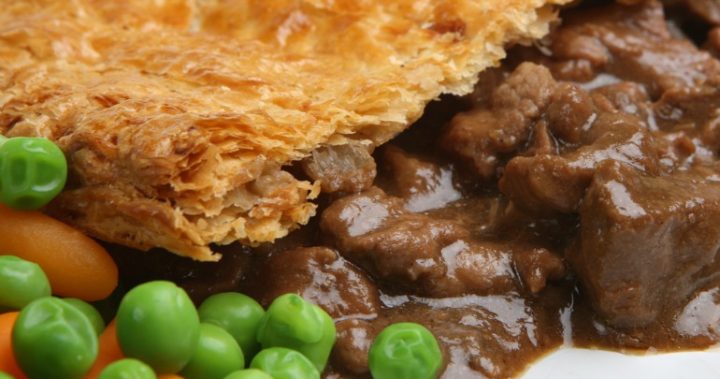 Dig into this amazing chunky steak and pepper pie for a hearty and delicious meal! The filling is packed with flavour thanks to the special pepper mix, tender meat and plenty of herbs. It's all simmered over the stove for around three hours so the meat easily falls apart with every bite. Golden puff pastry adds the perfect crunch making one of the most comforting meals you can ever make. Serve it with mashed potatoes and a side of veggies and enjoy!
Ingredients
1kg chuck or blade steak, cut into 4cm pieces
For the seasoned flour
1/2 cup plain flour
1 tablespoon cracked black pepper
1 tablespoon white ground pepper
1 tablespoon ground black pepper
2-3 tablespoons canola oil
2 brown onions, diced
2 cloves garlic
1 tablespoon chives
1/2 tablespoon thyme
1/2 tablespoon Worcestershire sauce
750ml beef stock
Ad. Article continues below.
For the pepper mix (mix together before adding)
1 tablespoon cracked black pepper
1 tablespoon white pepper
1 tablespoon ground black pepper
3 tablespoon whole black peppercorns
1 cup water (extra – if needed)
2 sheets puff pastry
40g butter
1 egg (beaten for glazing pie pastry top)
250gms mushrooms, chopped
Method
1. Put steak in freezer bag with seasoned flour, shake well to coat steak. Place coated cubes into a medium bowl. Add oil to a large saucepan and cook steak until brown all over. Once browned set aside in bowl.
2. Cook onion over medium heat with rest of oil, add garlic after a few minutes, stir well. Add steak and stir, then add Worcestershire sauce and beef stock and stir in well. Add chives, thyme and pepper mix and stir together well.
Ad. Article continues below.
3. Gently bring to boil then reduce heat and simmer on low for 2-3 hours. Stir occasionally to stop burning, and add a little extra water if needed. When steak is tender, let cool. Stir in the mushrooms.
4. When you are ready to cook the pie, preheat oven to 180C. Thaw the pastry sheets until workable. Using your pie dish as a guide, cut the pastry 1 cm wider than edge of pie dish and set aside. This will be the base. Cut lid for pie with other sheet of pastry, make this same size as pie dish and set aside.
5. Grease the pie dish by rubbing butter liberally over the base – this helps later for removing/serving pie after baking. Line base of pie dish with the pastry bottom and press all around to edges of pie dish. Spoon in the cooled pepper steak mixture, spreading it out evenly to edges. Brush lip of pastry around pie dish with beaten egg.
6. Put pastry lid on and press edges all round pie dish. Decorate with fork to create 'crust edge'. Brush all over with beaten egg. Make a small sliced opening in middle of pie before putting in oven – this lets steam escape as it cooks. Transfer to oven and cook for 15 min. Rotate pie around and cook for a further 15 min. Let cool for 15 min, after cooking before serving – this way the pastry sets and makes it easier to serve or flip on to a plate.
—————————————————–
If you'd like to see more recipes from Starts at 60, click here. And if you have a recipe you'd like to share with the Starts at 60 community – we'd love to share it! Submit them to us by completing the form below.
Submit your article here