Chocolate with barossa apricots & roasted almonds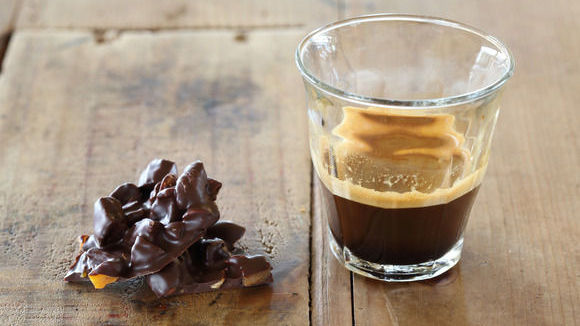 This sweet little dessert is the perfect way to indulge this Christmas. Serve with tea and coffee to unwind after a busy Christmas lunch/dinner.
Prep time: 5 minutes
Cook time: 20 minutes
Serves 8
Ingredients
Ad. Article continues below.
300g Haigh's bittersweet chocolate buttons, 70% cocoa
100g whole almonds, in skin roasted
100g Barossa dried apricots finely diced
Method
Preheat the oven to 200C.
Line the base of a baking tray with baking paper.
Place the almonds onto a baking tray and roast in the oven for 5-10 minutes until a deep golden colour. Remove and allow to cool.
Bring a saucepan of water to a full boil, then turn the heat down very low.
Place 150 grams of the chocolate into a bowl wide enough to be suspended by the saucepan and stand it over the hot water, making sure the water cannot come into contact with the chocolate as it melts.
Allow the chocolate to melt slowly until it reaches 50C, then remove from the heat and stir in the remaining amount of chocolate to bring the chocolate back down to 24C. Then place back over the heat to bring the chocolate back up to 31C. Remove from the heat and set aside.
Pour the almonds and the dried apricots into the melted chocolate and stir very briefly.
Pour the chocolate mixture onto a sheet of baking paper, and using a spatula, spread it into a thin layer.
Allow to set (not in the refrigerator).
Break into irregularly shaped pieces and store in a cool place until ready to serve.
Source: maggiebeer.com.au
This recipe and many others like it can be found at maggiebeer.com.au
For even more recipe ideas, check out the recipe book Maggie's Christmas, which can be bought here