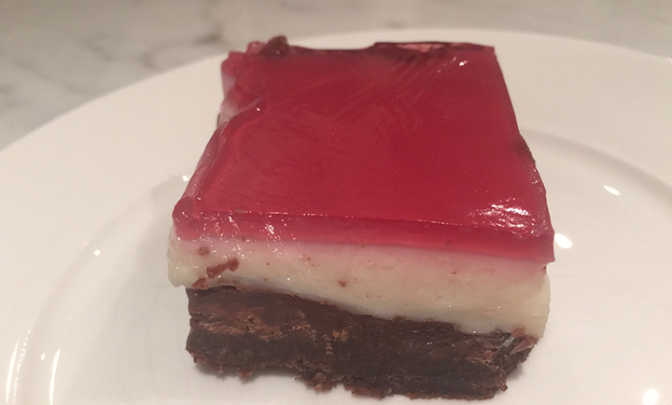 This recipe for chocolate jelly slice is so easy a tween can make it all by themselves and so delicious a grandparent might want to help them make it on the school holidays. It is a favourite in our house, and as you can see, it looks as good as it tastes so makes a great plate to take to a party or morning tea.
Ingredients
Method
grease a rectangular slice pan (approx 20X30cm) then line the slice tin with baking paper, with the paper rising about 2cm above the top of the tray.
Blitz your biscuits in a food processor to fine biscuit crumbs.
Add to the food processor the butter and cinnamon and blitz again.  Press into the pan.  This is your "base" for the slice.
Refrigerate the base for 30 minutes or until firm.
Combine condensed milk with lemon juice in medium bowl.
Mix the boiling water and  2 teaspoons of gelatine in a small bowl or jug. Stir until completely dissolved, then stir into condensed milk mixture.
Pour the condensed milk mixture over biscuit base and return to the refrigerator for 1 hour or until set.
Then, finally, prepare the jelly crystals using 100 ml less cold water than the instructions say to make a more condensed jelly.  Allow the liquid to cool to room temperature before pouring it over the set condensed milk filling.
Chill for an hour or until set.
Remove the slice from the fridge, take the paper lining out of the pan and slice it up to serve it.
Ad. Article continues below.
If you have a recipe you'd like to share with the Starts at 60 community – we'd love to share it! Submit them to us by completing the form below. 
Submit your article here