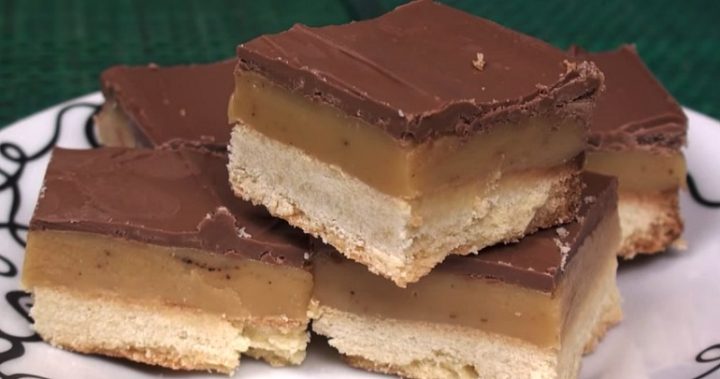 This is one of those classic slice recipes everyone should have in their book. The three different layers can sometimes turn people off because it looks complex to make, but all three are actually easy to whip up and just need to be spread one on top of the other. Easy! If you really want to make thins easy for yourself you can use ready-made caramel, but the homemade version really is better. Cut the slice up into little squares and store in an airtight container for up to a week.
Ingredients
Melted butter, to grease
125g butter, at room temperature
1/3 cup caster sugar
1 1/4 cups plain flour
1 x 395g can sweetened condensed milk
2 tablespoons golden syrup
60g butter, extra
150g dark chocolate, roughly chopped
Method
1. Preheat oven to 160C. Brush a square 20cm (base measurement) cake pan with the melted butter to lightly grease. Line the base and 2 opposite sides with non-stick baking paper, allowing the paper to overhang the sides.
Ad. Article continues below.
2. Use an electric beater to beat the butter and sugar in a medium bowl until pale and creamy. Add the flour and beat until just combined. Use your hands to bring the mixture together to form a ball. Turn onto a lightly floured surface and knead until smooth. Use the back of a metal spoon to gently press the mixture evenly into the prepared pan and smooth the surface.
3. Bake in preheated oven for 15 minutes or until lightly browned. Remove from the oven and set aside for 15 minutes to cool.
4. Place the sweetened condensed milk, golden syrup and 40g of the extra butter in a small non-stick saucepan over medium heat. Cook, stirring constantly, for 5-8 minutes or until the mixture thickens and is a caramel colour (see microwave tip 1). Remove from heat. Spoon the hot caramel over the biscuit base and smooth the surface. Set aside for 30 minutes to cool.
5. Place the chocolate and remaining butter in a small, clean, dry heatproof bowl. Place the bowl over a small saucepan of barely simmering water over low heat (make sure the bowl doesn't touch the water). Use a dry metal spoon to stir gently for 2 minutes or until chocolate melts and is smooth (see microwave tip 2). Pour the chocolate mixture evenly over the caramel filling and smooth the surface with a knife. Place in the fridge for 10 minutes or until chocolate sets. Cut the chocolate caramel slice into 16 pieces to serve.
—————————————————–
If you'd like to see more recipes from Starts at 60, click here. And if you have a recipe you'd like to share with the Starts at 60 community – we'd love to share it! Submit them to us by completing the form below.
Submit your article here