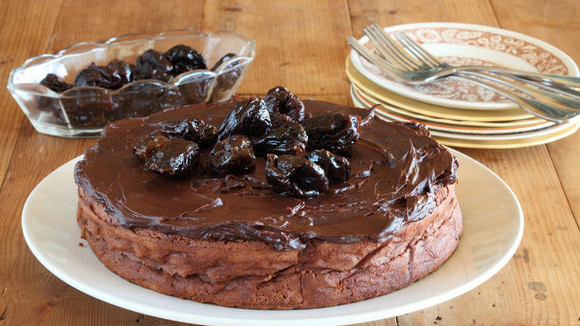 Looking for that recipe that will have everyone talking this Christmas? Check out this yummy chocolate cake that has a delicious twist!
Chocolate and prune cake
Prep time: 30 mins
Cook time: 30 mins
Ad. Article continues below.
Ingredients
350g pitted prunes
375ml brandy
240g unsalted butter
450g bitter chocolate
1 tbspn best quality instant coffee granules
8 egg separated
115g unbleached plain flour
120g caster sugar
Method
Soak the prunes overnight in 125 millilitres of the brandy.
Next day, preheat the oven to 200C and line a 28 centimetre round cake tin or 2 x 20 centimetre round cake tins with baking paper.
Melt the butter in a small saucepan and set it aside to cool a little. Bring a large saucepan of water to a boil and remove it from the heat.
Roughly chop the chocolate and put it with the coffee granules and remaining brandy in a large stainless steel or ceramic bowl. Stand this bowl over the pan of hot water until the chocolate has melted. Stir to combine. Add the egg yolks to the chocolate mixture and then incorporate the melted butter. Sift the flour into the mixture and gently fold it in until combined.
Whisk the egg whites to soft peaks, adding the caster sugar as you go. Fold a little of the whites into the chocolate mixture to lighten it, then pour the chocolate mixture back into the whites, gently folding until evenly combined. Pour the mixture into the prepared cake tin and bake for 20 -25 minutes. The cake will rise like a soufflé during baking and will crack on the surface. It will then collapse a little as it cools. Don't fret – this is all meant to happen! Allow the cake to cool in the tin for 45 minutes before turning it out.
Cut the cake in half and gently remove the top layer. Scoop out a little cake from the centre of the bottom layer and blend the crumbs with the drained prunes in a food processor. Fill the cake with the prune mixture and replace the top layer.
Make the ganache by roughly chopping the chocolate and melting it with the coffee and cream in a bowl in a saucepan over a very low heat, stirring to combine once the chocolate has melted.
Allow the ganache to cool and set slightly in the refrigerator, then pour it over the cake, smoothing it over the sides until evenly covered. Allow to set completely – you may need to refrigerate the cake to achieve this. Serve with a dollop of double cream.
Ad. Article continues below.
Source: maggiebeer.com.au
This tasty recipe and many other like it can be found at maggiebeer.com.au.
For even more recipe ideas, buy Maggie Beer's Christmas recipe book here