Chocolate and apricot jam tart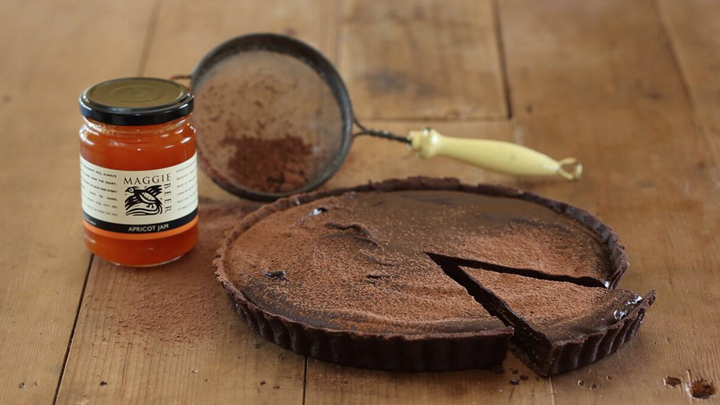 Chocolate and apricot are a match made in heaven, as you will see when you make this decadent tart.
Ad. Article continues below.
It features one of Maggie's favourite products, her apricot jam, and is a sweet treat for a special occasion.
Ingredients
300g

careme dark chocolate shortcrust pastry, 

thawed

1 and 2/3 cup

thickened cream

500g

bittersweet 70 per cent dark chocolate buttons
Method
Grease a 3cm deep, 24cm removable-base flan tin.
Ease pastry into tin, press gently into the side. Leave about 2mm of pastry above the tin, which will allow for any shrinkage of the pastry while cooking. Trim off the excess pastry. Place tin on an oven tray.
Place the flan tin into the fridge for 15 minutes to allow the pastry to become completely chilled.
Meanwhile, preheat the oven to 220C (200C fan-forced).
Remove the pastry from the fridge and line with baking paper and then fill with blind baking pastry weights, or rice or dried beans.
Bake pastry for 15 minutes, then remove the baking weights and baking paper and continue to cook the pastry for another 10 minutes or until the pastry is completely cooked through.
Remove the tart shell from the oven and allow to cool to room temperature.
Meanwhile, place the cream into a heavy-based medium saucepan and place over a medium-high heat. Bring just to simmering point then remove from the heat and pour over the chocolate in a heatproof medium bowl. Allow this to sit for a couple of minutes then gently stir together until completely smooth; set aside for 20 minutes to cool.
Dot the apricot jam over the base of the chocolate tart shell and then gently pour over the chocolate mixture.
Set aside for at least 4 hrs to allow the chocolate to set, if it is a warm day you can place the tart into the fridge for 1 hour to allow the tart to set.
Remove from the flan tin and cut into wedges and serve with crème fraiche.