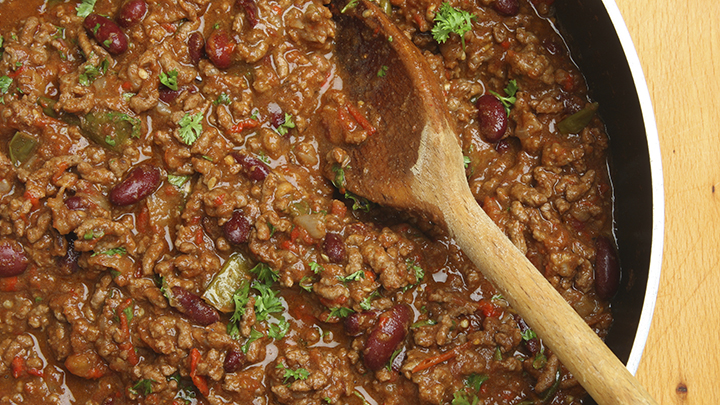 Are you on the hunt for the perfect warm winter dish? We've found it for you! This chilli con carne pie will warm you to the core. The pastry shell and the hearty meat and beans will fill you up too.
Ingredients
1 tablespoon vegetable oil
1 large (200g) brown onion, chopped coarsely
2 cloves garlic, crushed
2 teaspoons ground cumin
1 tablespoon Mexican Chilli Powder
1 kg minced beef
400g can tomatoes
1/4 cup (60ml) tomato paste
1 cup (250ml) water
420g can kidney beans, drained
3/4 cup (180ml) sour cream
Pastry
2 cups (300g) plain flour
150g butter, chopped
1/4 cup (30g) coarsely grated cheddar cheese
2 tablespoons finely chopped chives
1 egg yolk
2 tablespoons cold water
1 egg, beaten lightly
Ad. Article continues below.
Method
Heat oil in large pan; cook onion and garlic, stirring, until onion is soft. Add cumin and chilli powder; cook, stirring, until fragrant.
Add beef; cook, stirring, until well browned.
Add the undrained crushed tomatoes, paste, water and beans; simmer, uncovered, about 30 minutes or until mixture thickens, cool. (These stages can be made ahead. Cover; refrigerate overnight or freeze).
Pour beef mixture into pastry case. Bake uncovered, in moderate oven for about 15 minutes or until heated through. Serve pie with sour cream.
Pastry
Grease 2-litre (8-cup capacity) ovenproof dish.
Process flour and butter until just crumbly; add cheese, chives, egg yolk and enough water to make ingredients just cling together.
Knead dough on floured surface until smooth, cover with plastic wrap; refrigerate for at least 30 minutes.
Roll pastry on floured surface until large enough to line prepared dish. Life pastry into dish, ease into side, trim edges. Cover; refrigerate for at least 30 minutes.
Cover pastry-lined dish with baking paper; fill with dried beans or rice. Place on oven tray; bake, uncovered, in moderately hot oven for 10 minutes. Remove and discard paper and beans, return dish to oven; bake, uncovered, 10 minutes or until browned lightly, cool.
Tell us, will you try this recipe? What is your go-to winter dish?