Chicken, mushroom and leek pie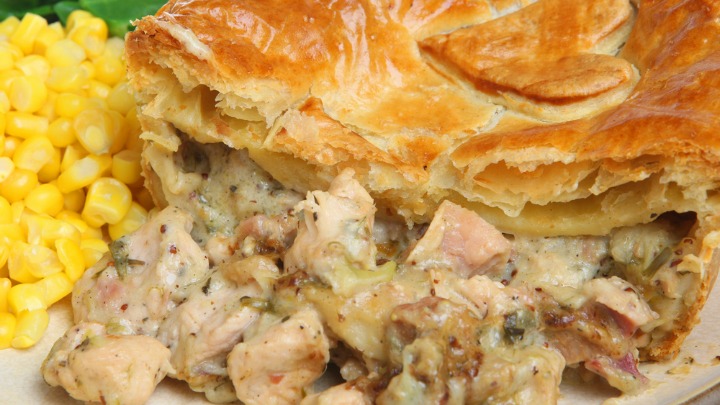 This pie is absolutely gorgeous! It's packed with tender chicken and all the best flavours to go along with it. Leek, thyme, baby potatoes and plenty of cream make the delicious filling and the whole thing is encased in golden puff pastry. You can serve it with a side of simple veg like steamed broccoli or just enjoy it on its own.
Ingredients
1/4 cup (65ml) olive oil
4 boneless skinless chicken breasts, cut in small pieces
1 medium onion, diced
1 small leek, washed and sliced small
1 tablespoon plain flour
6-10 mushrooms, quartered
1 litre chicken stock, or as needed
100ml thickened cream
1 pinch fresh thyme or dried
375g premade puff pastry
3-4 small potatoes, optional
1-2 bay leaves, optional
1 pinch salt and pepper, to taste
Method
1. Preheat oven to 200C. Heat 2 tablespoons of the olive oil in a large pan until very hot. Brown the chicken pieces a few at a time depending on the size of your pan. When they're all done put them to one side.
Ad. Article continues below.
2. Add the rest of the oil to the pan. Add the onion and leek, cover then turn the heat down low. Cook for about 10 minutes until the onion and leek are nicely softened.
3. Add the flour stirring in well and cook until completely incorporated which will take a couple of minutes. Add a cupful of the stock and stir. The sauce should immediately start to thicken. Add the rest of the stock a little bit at a time until you have about a third left.
4. Return the chicken pieces back to the pan, along with the mushrooms. If the sauce is a bit too thick add a bit more stock. Add the thyme.
Cook uncovered on a medium heat for about 10 minutes then pour in the cream. Cook for a further 10 minutes.
4. If you are adding the potatoes, boil them separately and then cut them into smallish pieces. Add to the sauce. Cook until the sauce has reduced to your preferred consistency. If it's too thick, add a bit more stock to thin it out. Season with salt and pepper to taste. Pour the sauce into a shallow ovenproof dish and top with the puff pastry. Cook for 20-30 minutes until the pastry is golden brown.
—————————————————–
If you'd like to see more recipes from Starts at 60, click here. And if you have a recipe you'd like to share with the Starts at 60 community – we'd love to share it! Submit them to us by completing the form below.
Submit your article here