Chicken and mushroom casserole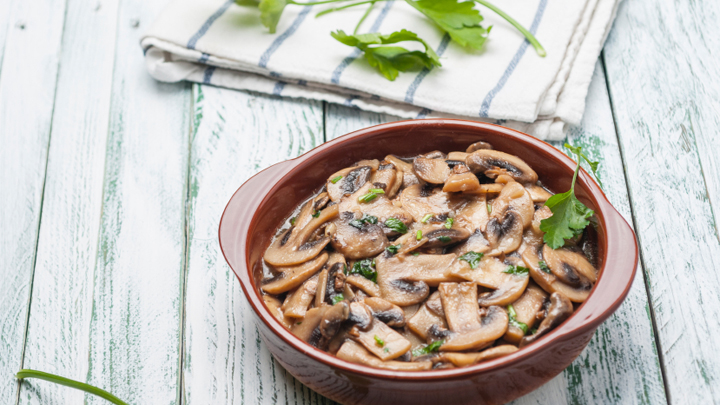 This chicken and mushroom casserole will definitely be a hit at your next dinner party. The chicken is incredibly tender and the mushroom flavour is divine. What makes this recipe even better is that it doesn't use any canned ingredients, instead it's all simple and wholesome. It also re-heats really well, if you're lucky enough to have any leftovers.
Take a look at the recipe below.
Ingredients
Ad. Article continues below.
Serves 8
Chicken and mushroom casserole
4 – 5 boneless chicken breasts, trimmed  and cut into thick pieces
Sea salt and pepper to taste
1 cup plain flour to coat the chicken
6 tablespoons extra virgin olive oil, divided
450g fresh mushrooms, thickly sliced
1 medium onion, finely diced
3 garlic cloves, minced
Sauce
3 tablespoons unsalted butter
3 tablespoons plain flour for the sauce
1 1/2 cup chicken broth
1 tablespoon fresh lemon juice
1 cup milk
Ad. Article continues below.
Method
Prep: 30 minutes and cook: 45 minutes
Season chicken with salt and pepper and coat both sides in flour.
Heat 3 tablespoons of oil in a large pan over medium heat. Once oil is hot, add chicken and saute until golden. Don't worry about cooking the chicken through; it still needs to go in the oven. Transfer chicken to a 35×25 casserole baking dish.
Add 3 tablespoons oil in a pan with sliced mushrooms and diced onions and cook until soft and golden. Add garlic and saute for another 1-2 min. Spread mixture over the chicken.
In a medium saucepan, melt 3 tablespoons of butter and then whisk in 3 tablespoons of flour until lightly golden (1-2 min).
Add 1 1/2 cups chicken broth, 1 tablespoon lemon juice, 1/4 teaspoon pepper, and whisk until smooth. Add 1 cup milk and bring to a simmer. Season with salt and pepper to taste.
Pour sauce over the chicken and mushrooms. Cover with foil and bake at 180C for 45 minutes. Serve warm over mashed potatoes, rich or pasta.
Tell us, will you try making this delicious casserole dish? What do you like to cook in winter?