Chia pudding with mixed berries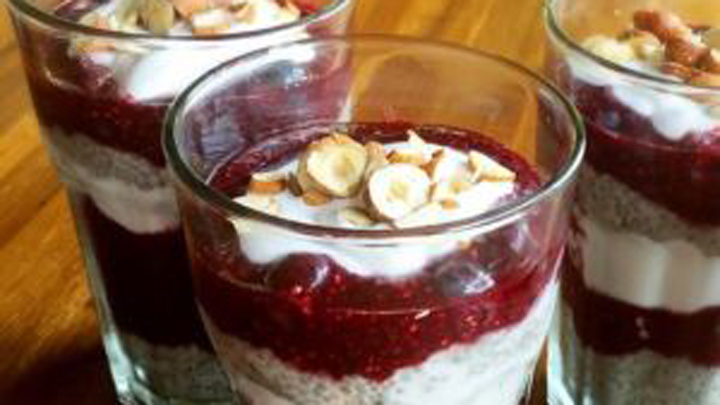 I love chia pudding – it's a wonderfully satisfying and filling dessert that is also healthy and super versatile to accommodate for taste, season and occasion. You can just spoon it out of a bowl or layer it in a glass to create a fancy dinner party version. Chia pudding lasts for about 4-5 days refrigerated, so it's a great snack to prepare for the week.
Serves: 4
Prep time: 2 hours or overnight for soaking and 5 minutes to assemble
Ingredients
1 can of coconut milk or 1 cup almond milk or rice milk (or mix them up)
2-3 tablespoons honey or rice malt syrup
1 teaspoon vanilla extract
1/2 cup chia seeds
2 cups thawed mixed berries (for the topping)
Ad. Article continues below.
Preparation
In a medium size bowl, mix all ingredients.
Stir well and refrigerate for at least 2 hours or until soft and thick.
Add toppings of your choice for each serving – layer it in a glass for beautiful presentation.
Preparation tips
Ad. Article continues below.
Make sure to soak long enough so the seeds are soft and you get the right pudding texture. You can also soak overnight. If you find it too thick, just add a little liquid. Too runny – add more chia seeds.
Variations
Add Coconut yoghurt amd layer like a trifle
Ad. Article continues below.
Other topping options:
Mango pieces (or puree) with pumpkin seeds
Raspberries (or puree)
Lemon juice and cardamom (mix into the pudding)
Banana and passionfruit
Cocoa powder and cinnamon
Mixed berries
Chopped nut
As you can see it's very versatile – create your own version and let us know your favourite!
What's good about this recipe
This recipe is part of the Wellvess 8-week arthritis program. Our program is packed with delicious anti-inflammatory recipes, cooking tips, latest research on supplements, exercise tips and a forum to connect with others. All recipes have a section like the one below, highlighting the anti-inflammatory properties of the ingredients.
Ad. Article continues below.
Chia seeds are high in fibre and also pack an impressive dose of plant based omega-3 (ALA), which is important for joint health.
In addition, you'll get the benefits of the healthy toppings you choose.
By adding nuts, fruit or cocoa powder, you'll add a healthy source of protein, fibre and anti-oxidants to this meal.